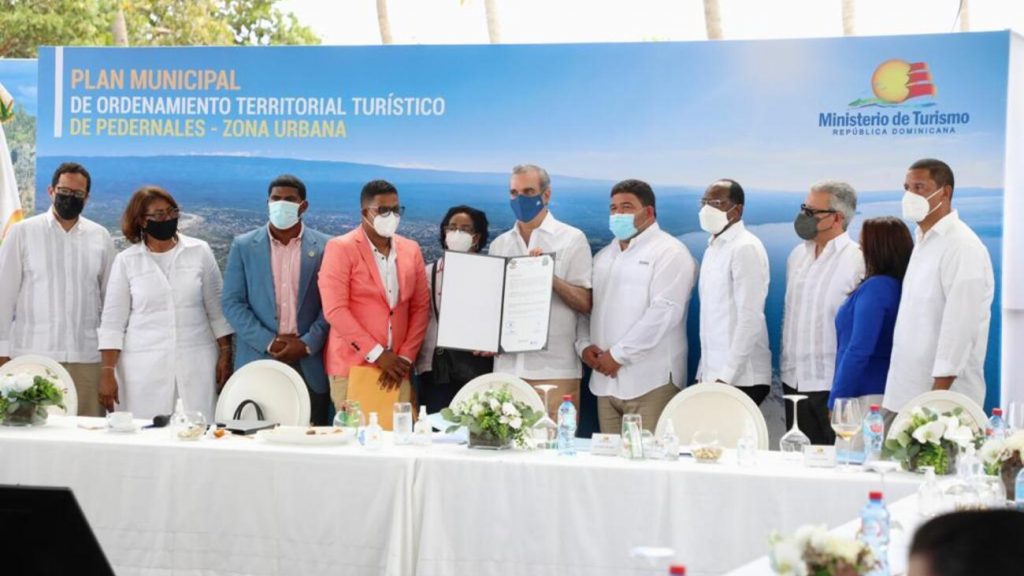 The Abinader administration announced the investing of the first RD$500 million to kick off tourism development in Pedernales. The investments are carried out under the ProPedernales Trust and are the first infrastructure works for the Pedernales Tourism Development Project. Pedernales is the southwestern province of the country. It is on the border with Haiti.
Accompanying the President for the groundbreaking ceremony were the executive director of Public-Private Alliances, Sigmund Freund, Presidency Minister Lisandro Macarrulla, Tourism Minister David Collado and Public Works Minister Deligne Ascención. The RD$500 million will be used to build 24 km of roads and refurbish the La Concepción hotel in Cabo Rojo, the former Alcoa bauxite mining company hotel. A major seaport is also contemplated.
Abinader said that 18 of the 24 kilometers will be new roads. A bypass will be built for a better connection to the Bahía de las Águilas beach area. The roads that connect the Cabo Rojo pier and Cabo Rojo beach will be rehabilitated.
President Abinader said the initiative calls for the construction of 3,000 hotel rooms and an investment of one billion dollars in a first phase. The President said that nine hotel chains have already formalized their interest and preliminary commitment to operate hotels. The Presidency mentioned AmResorts, Hilton, Hyatt, Iberostar, Kasmarina with Margaritaville, Marriott, Radisson, Sunwing and Viva Wyndham.
Read more in Spanish:
Presidency
Presidency
El Nuevo Diario
25 June 2021