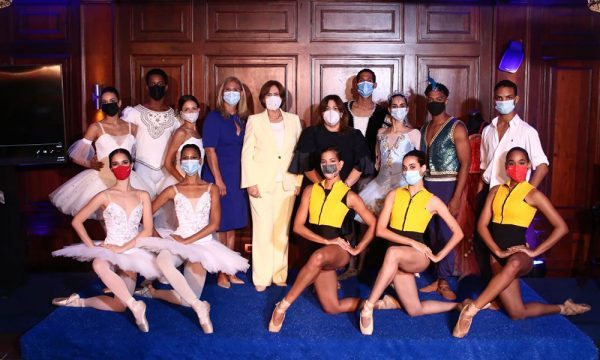 National and international dancers will perform for the "The Blue Night with World Dance Stars" this 18 and 19 September 2021 at the National Theater's main hall. The National Theater has been gradually reopening for in-person presentations. The Blue Night is a benefit for children with cerebral palsy and autism. It is organizd by the Nido de Angeles Foundation and the Manuel Alvarez Reyes Foundation (Fundamar), as reported in El Caribe.
Culture Minister Carmen Heredia said the 12th edition of the Gala of World Dance Stars is a great satisfaction for Dominican dancers, both resident in the country and abroad, and a meeting point for great national and international ballet dancers.
This year's program features Dominican stars, both resident in the country and from the diaspora. Coming from abroad is Spanish prima ballerina Sergio Bernal, and the prima ballerinas of the Municipal Theater of Rio de Janeiro, Julian Baladao and Alef Albert. Among the stars of the Dominican diaspora will be Juan Capellán, soloist of the National Dance Company of Mexico; Alexa Torres, from the Washington Ballet and Johan Mancebo and Gabriela Checo, from the Sibiu Ballet Theater Company in Romania.
Local talent will include dancers from the Ballet Concierto companies: Diana DoPico, Eliosmayquer Orozco, Lya Gómez, Karla Espaillat, Demi Issa and Rosa Lidia Cabrera. Meanwhile, the Armando Villamil Dance Company will perform with Yeira Genao and Dulce Suriel. As a special guest, Ballet Concierto will also feature Jonathan Castillo.
Read more in Spanish:
El Caribe
16 September 2021