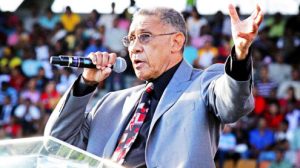 When the issue was supposedly closed after the changes in the Penal Code that would reduce from 10 to 20 years to one-year marital rape were discarded, evangelical church pastor Ezequiel Molina added to the debate on marital rape. Molina tweeted it was all about "destroying the family."
"Rape of what? Suppose after a displeasure, the husband embraces his wife from behind and she accuses him. In that case, the penalty will be from 10 to 20 years according to the code that the angry leftists who are dissatisfied with the fact that abortion was not approved want," the pastor complained in his Twitter account.
In the Penal Code debates in the Chamber of Deputies, Molina had been one of the strongest advocates against including the three exceptions when an abortion be allowed – incest, rape and medical emergencies.
Previously, on Wednesday, 20 October 2021, adjunct prosecutor Yeni Berenice Reynoso had tweeted: "Rape is an act of penetration of a person without his or her consent. Attenuating or exempting the configuration of the type due to the victim's status as a partner does not admit a minimally reasonable discussion."
The 10-to-20 year penalty for marital rape has existed in the Penal Code since 1997. Nevertheless, cases of marital rape must be very rare as they have not made headlines in the press. Likewise, cases against people violating the child marriage law are also not reaching the courts. Neither, cases for abortions carried out in the Dominican Republic. Nevertheless, recently the sentencing of a grandfather to 20 years in jail for raping his grandchild did make headlines.
Read more in Spanish:
Noticias SIN

El Dia

Hoy

El Nuevo Diario

Attorney General Office
22 October 2021