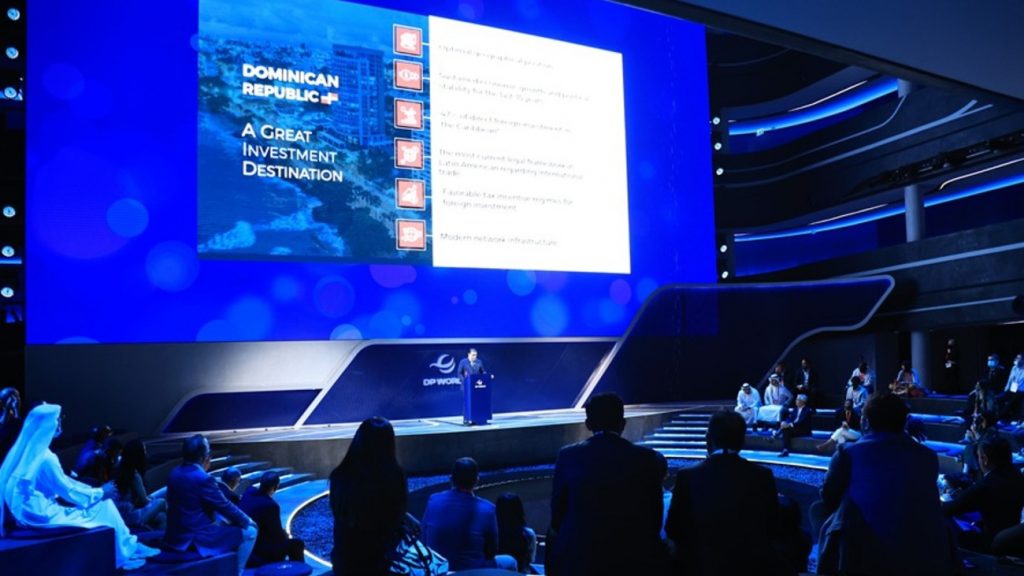 The director general of the Customs Agency (DGA), Eduardo Sanz Lovatón presented the advantages of the Dominican Republic for investment and exports at the international forum of Expo Dubai 2020. Sanz Lovatón told of steps taken by the country to become the largest and most important logistics and business hub in the region.
Sanz Lovaton said that Expo Dubai 2020 is the largest international fair in the world, where more than 192 countries participate and is an ideal platform to present the Dominican Republic as an attractive business partner. He spoke of the wide range of national products with export potential and high demand in international markets and the logistical, operational and tax advantages offered by the nation for foreign investors.
During his participation in Expo Dubai 2020, Sanz Lovatón highlighted that the Dominican Republic is the best connected destination in the Latin American and Caribbean region. He spoke of the eight international airports that receive 320 daily flights and three cruiseship ports. He stressed the country has 12 cargo ports that handle around 90 ships per week with direct routes to North America, Europe, Asia, the Caribbean and South America, and the capacity to receive Post-Panamax vessels.
The head of the DGA pointed out the availability of world-class infrastructure and logistics services, the political and economic stability, and the availability of favorable tax incentives for foreign investors, in addition to a up to date legal framework in terms of international trade.
He emphasized that despite the pandemic, the country has the fastest growing economy in Latin America and the Caribbean, with a gross domestic product (GDP) that is expected to reach a record 9.5% at the end of this year. He said this is well above the 6.3% projected for the region and attributed this to the confidence generated by the administration of President Luis Abinader.
Sanz Lovatón made the point the Dominican Republic has received 47% of all the foreign direct investment that has come to the Caribbean.
The official pointed out that the Dominican Republic has operational and connectivity advantages and strong and attractive economic sectors for investment, such as tourism, commerce, industry, real estate, mining, electricity, and free zones.
He listed the country is a signatory of bilateral and multilateral trade agreements such as DR-CAFTA, the EPA (Economic Partnership Agreement), the Partial Agreement with Panama, the Agreement with Central America and the Caricom-DR, which give the country access to more than 48 markets and more than one billion consumers.
Read more in Spanish:
Presidency
Expo Dubai
19 November 2021