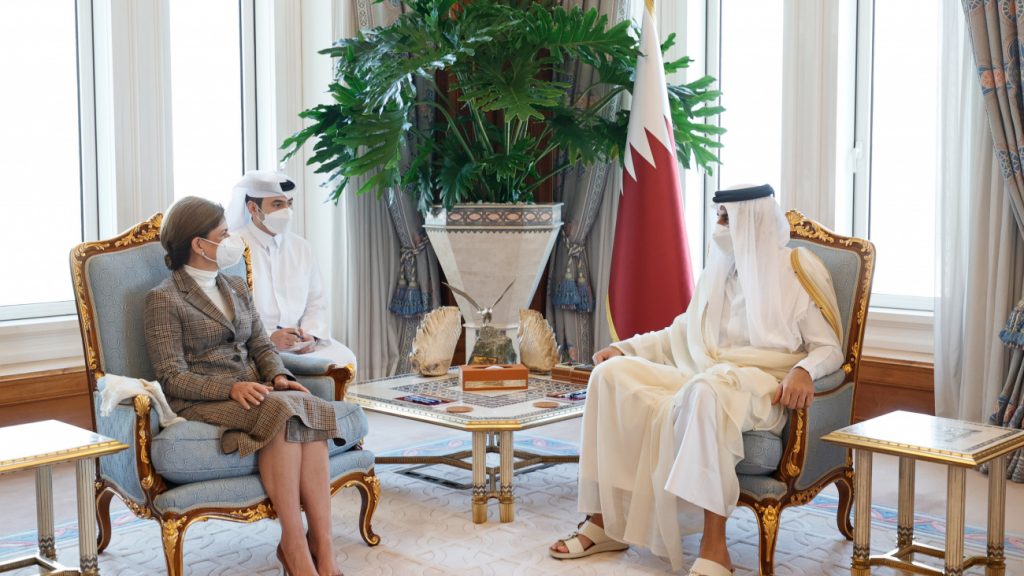 Vice President Raquel Peña met with Emir, His Highness Sheikh Tamim bin Hamad Al Thani to discuss matters of mutual interest during her official visit to Doha, Qatar. The visit was carried out to strengthen bilateral relations between the Dominican Republic and the State of Qatar, the Presidency reports in a press release.
Vice President Peña spoke of cooperation plans between the two countries, which would be of great importance for foreign investment.
Before the meeting, the Vice President had already met with Mansoor bin Ebrahim Al-Mahmoud, Qatar Minister of Industry and Commerce, and with Ali bin Ahmed Al Kuwari, CEO of the Qatar Investment Authority.
Afterwards, Peña was received by Her Excellency Sheikha Al Mayassa in her office, where they discussed art and culture. At the end of the meeting, the Sheikha guided the Vice President on a tour of the Qatar National Museum where they exchanged experiences on the culture and history of both countries.
In Qatar, the Vice President also toured the Hamad Trauma Center, the largest and busiest in the Middle East region. The center is equipped with state-of-the-art technology and offers its services free of charge. At the hospital, Vice President Peña was received by the Dominican surgeon and scientist, Dr. Ruben Peralta, who is the deputy medical director of the center, and the Qatari Minister of Health, Dr. Hanan Al Kuwari. In this scenario, they shared impressions on the technological advances and their contributions to the health sector, as well as experiences that could be replicated in the Dominican Republic.
Later, the Vice President met with the CEO of Qatar Airways, Akbar Al Baker, with whom she discussed opportunities for collaboration between the company and the Dominican Republic, as well as other projects of interest to the tourism sector in the country.
To learn about educational initiatives in Qatar, the Vice President held a meeting with the Minister of Education of Qatar, Mohammed Abdul Wahed Al Hammadi. There, both officials discussed the projects that have catapulted Qatar's growth in education and how these experiences can serve as an example for other nations.
Vice President Peña also held a lunch meeting with Qatari businesswomen, with whom she discussed business and investment opportunities in the Dominican Republic. The Vice President thanked the ladies present for the opportunity to share their experiences and explore exchange opportunities with Qatari companies.
Vice President Peña concluded her agenda by participating in the inauguration of the "Colors of Quisqueya" Exhibition, as well as visiting the Qatar Foundation and the Katara Cultural Center.
Raquel Peña returned to the Dominican Republic on Saturday, 20 November 2021.
Read more:
Presidency
The Peninsula Qatar
The Peninsula Qatar
22 November 2021