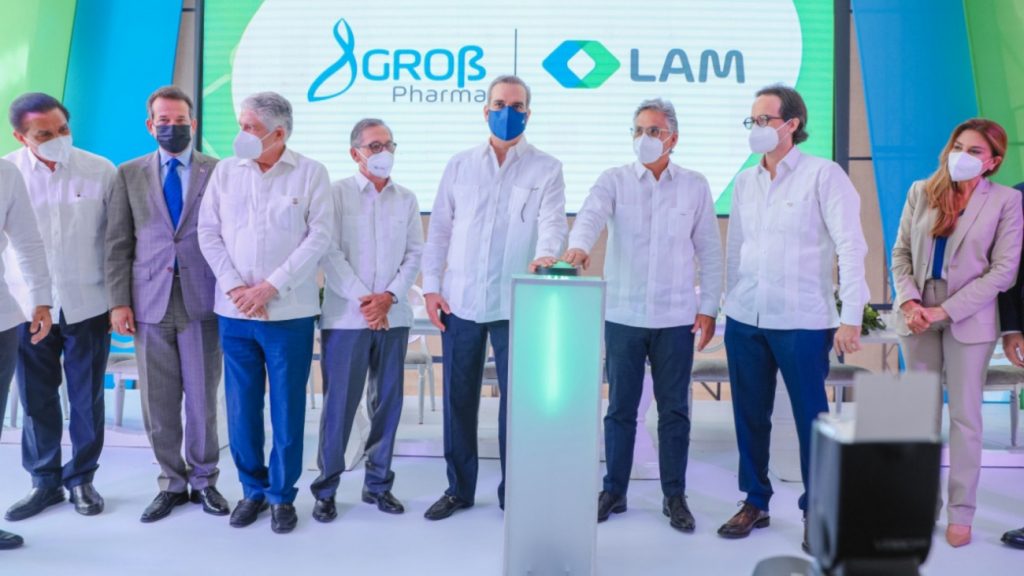 President Luis Abinader was at the inauguration of the Lam-Grob Pharma production plant where he announced record direct foreign investments are expected for the second quarter of 2022. He attributed this to the projected stabilization of commodities at the international level.
LAM-Grob Pharma production plant is a RD$3 billion investment that has created 500 new jobs. The company is expanding with the building of the biological products unit of LAM Laboratories. Lam Laboratories already employs 800.
The new 10,000 square meter manufacturing plant is located in a company area of 20,000 square meters in eastern Santo Domingo's Cyberpark Free Zone.
Abinader spoke of how the area of biologicals and vaccines is a major step forward for Dominican health and technology.
The founder of Laboratorios LAM, Jordi García Coste; its president, Pavel García; the executive vice-president, Ludwig García and the vice-president of Operations, Jordano García were the hosts for the event.
President Abinader called the García family an example of entrepreneurship and self-improvement.
At the inauguration, Abinader announced new incentives to the health sector would be forthcoming, including special incentives to health tourism.
He said that through the National Development and Export Bank (Bandex), an attractive credit line is being created to help projects in the health sector. The funds will be local and from multilateral organizations.
He pointed out that he supports and promotes initiatives in the health sector that create jobs and improve the quality of life in the Dominican Republic.
President Abinader was accompanied by the president of the Senate, Eduardo Estrella; Administrative Minister of the Presidency José Ignacio Paliza; Public Health Minister Daniel Rivera; Industry and Commerce Minister Víctor Bisonó; the National District Mayor Carolina Mejía; the executive director of the Free Zones Council, Daniel Liranzo and the director general of the Tax Agency, Luis Valdez.
Read more in Spanish:
Presidency

24 November 2021