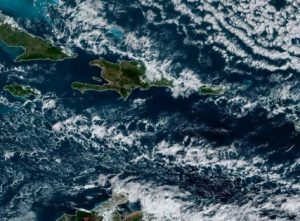 The Weather Office (Onamet) is forecasting seasonal "winter" weather for the Dominican Republic through Friday. The cold front is moving south. Zero temperatures could happen in the mountainous areas, such as Valle Nuevo in La Vega. The cold front is also expected to bring rains, thunderstorms and wind gusts as it moves past the Dominican Republic by Friday.
Onamet reports that the frontal system that is located to the north of the country is bringing rains, thunderstorms and isolated gusts of wind to localities in the northwest, north, Cibao Valley, northern and the Central Mountain Range, extending to the northeast and southeast. This system will reduce temperatures in the early morning and mountain areas and valleys to between 12°C and 20°C.
By Thursday, 25 November 2021, the frontal system will begin moving away from the country, yet a wide moisture area will follow with rains, thunderstorms and wind gusts. By Friday, the cold front will have moved east to Puerto Rico.
Onamet forecasts "pleasant" night and early morning temperatures due to the incidence of this cold front.
Check the latest forecasts at Onamet
25 November 2021