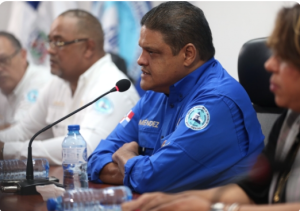 Easter Week is the peak domestic vacation time in the Dominican Republic. The Center for Emergency Operations (COE) announces its "Life Awareness, Easter Week 2022 Operation" for the safety of those that hit the roads to go on vacation at resorts, mountain and camping areas, and to visit friends and family.
The safety operation actually begins at 2pm on Holy Thursday, 14 April as hundreds of thousands of holiday seekers leave cities. The operation ends on Sunday, 17 April at 6pm. The objective is to prevent traffic accidents, drownings, alcohol and food intoxication. More than 200 lesser known beaches have been closed down for safety reasons.
The COE announced 48,223 people have signed up for the preventive actions. There will be 3,175 assistance stations at pre-determined critical points.
Likewise, 165 ambulances have been assigned to the operation and will be located at strategic points, 41 mobile car repair workshops, 57 vehicle towing units, nine regional command centers and three military helicopters on call. 19 boats, six mobile hospitals, 43 Omsa buses, 1,525 immediate response units (URIS) are added to the safety operation.
In addition, the Instituto Nacional de Transito y Transporte Terrestre (Intrant) will be monitoring the transportation of people in the back of pickups and cargo vehicles. The circulation of heavy vehicles is regulated.
Meanwhile, the Alcoholic Beverages Control Agency (Coba) of the Ministry of the Interior and Police will monitor businesses to prevent the sale of alcoholic beverages to intoxicated persons and minors.
The director of the COE, Juan Manuel Méndez García called for citizens to exercise moderation, avoid situations that could endanger the lives of those who accompany them and listen to the recommendations of the civil protection agency.
The Weather Office (Onamet) forecasts a trough will bring rains during the first days of the Easter holiday, but the forecast is for good weather for the Easter weekend.
Read more in Spanish:
COE
COE
Diario Libre
6 April 2022