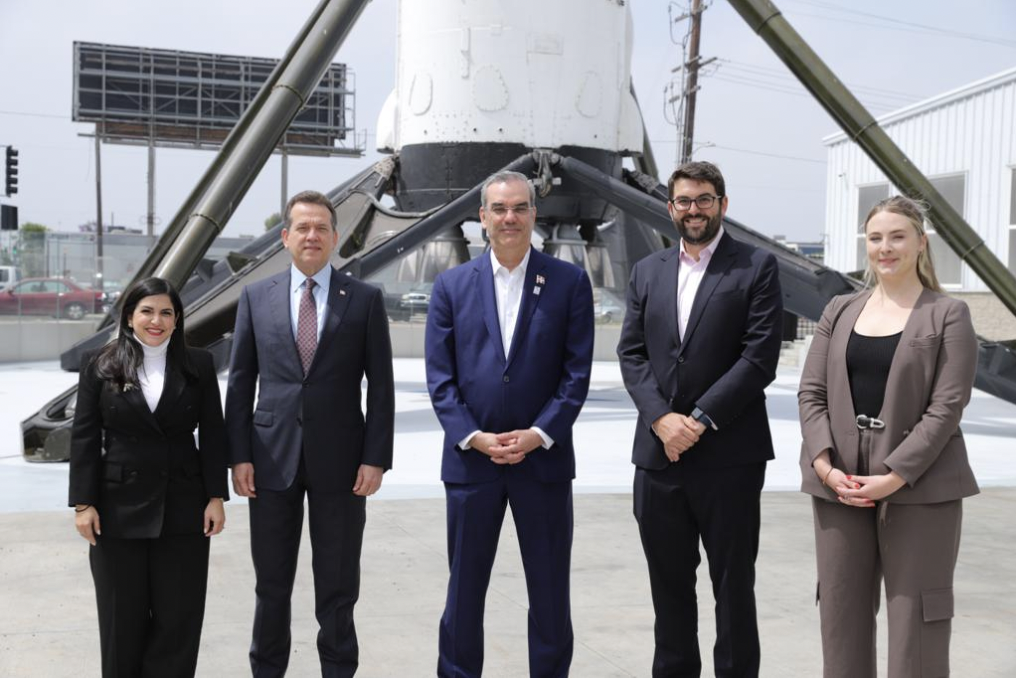 President Luis Abinader, accompanied by Foreign Minister Roberto Alvarez, Industry & Commerce Minister Victor (Ito) Bisonó and ProDominicana director Biviana Riveiro visited the SpaceX as part of the presidential agenda in Los Angeles, California for the 9th Summit of the Americas.
As reported, SpaceX division, Starlink seeks to offer satellite internet services in the country. The service, which has been available since fall 2020, offers the promise of higher speeds and lower latency than other satellite providers.
The Presidency says that when the permit is approved, the country will become the first in the Caribbean and the fourth in Latin America to have this low-cost Internet service for remote communities. Starlink serves 32 countries worldwide. The Starlink website says it will be available in Puerto Rico as of 2023.
SpaceX gave the official delegation a tour and explanations on the SpaceX space program and the Falcon 9 rocket manufacturing plant.
President Abinader was also accompanied by legal advisor José Alfredo Rizek. Their hosts were Katrina Hasse, manager of Latin American Market Access and Samuel (Chad) Gibbs IV, vice-president of operations.
Also, during the stay in Los Angeles for the 9th Summit of the Americas, President Abinader and the Dominican delegation took time to meet with Luiz Vasconcelos, president of Fedex Latin America and the Caribbean, and executives of the Motion Picture Association (MPA). The Motion Picture Association (MPA) is an American trade association representing the five major film studios of the United States and the video streaming service Netflix.
Read more in Spanish:
Presidency
CNET
13 June 2022