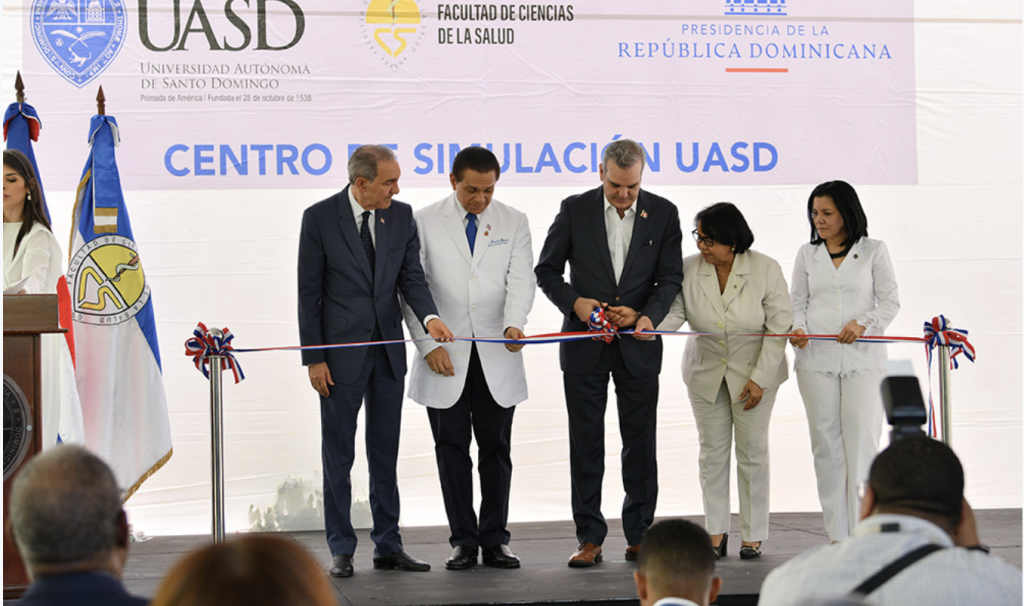 President Luis Abinader and outgoing rector of the Autonomous University of Santo Domingo (UASD), Emma Polanco Melo were at the inauguration of the UASD Health Sciences School Simulation Center on 22 June 2022. The government invested RD$125 million in the new center at the state university.
The Simulation Center meets high-quality standards and state-of-the-art technology for clinical teaching practices. Thousands of students will receive state of the art training in health services.
President Abinader said during the inauguration that the pandemic taught everyone that health is a key area and that if the country is not prepared, the entire system could collapse.
He said that we must come out of this experience with the firm conviction that health spending is not an expense, but an investment in life, well-being and development and that, consequently, the best tools must be made available to the sector to work, train and acquire skills that will allow it to act quickly, professionally and efficiently in the future.
"This simulation center is intended to be just that, a clinical space that resembles a teaching hospital with beds, stretchers, procedure cribs, ambulance, intensive care and details that provide realism and familiarization of the student with hospital supplies," said the President.
The simulation center is in a completed renovated area of 1,210 square meters. It is equipped with closed circuit video surveillance and monitoring and the UASD outgoing rector Polanco says it will directly impact more than 15,000 medical students. It will be used for training in pediatrics, neonatology, intensive care, gynecology, pre-hospital and emergency care. It has six high fidelity rooms.
Read more in Spanish:
El Caribe
23 June 2022