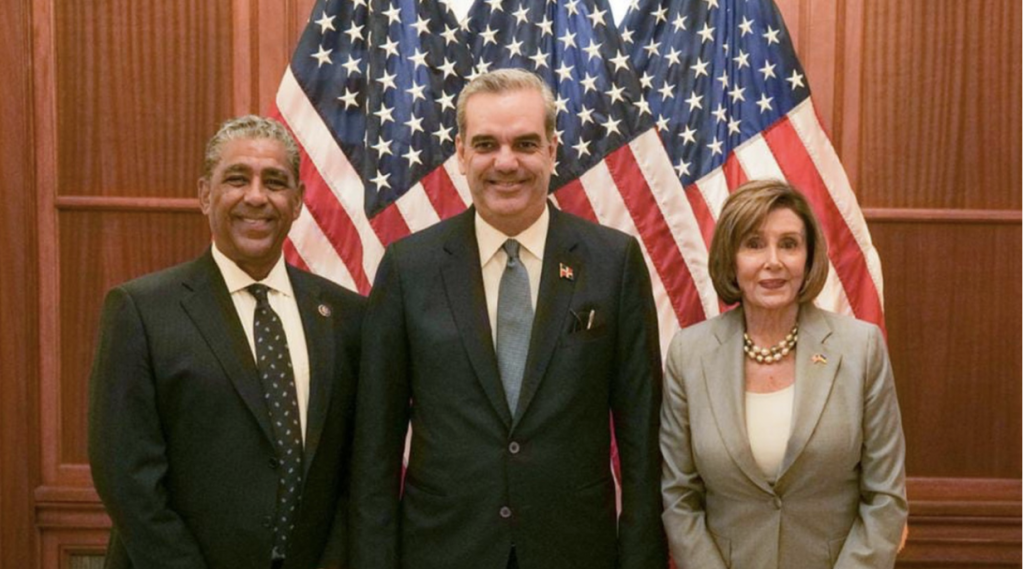 President Luis Abinader met on Wednesday, 14 September 2022 at the Capitol Hill in Washington, DC with the US Speaker of the House of Representatives, Nancy Pelosi for more than half an hour. Also present for the Dominican Republic were Minister of Foreign Relations Roberto Alvarez, Ambassador Sonia Guzman and Jose Singer Weisinger, honorary advisor to the Executive Branch on Foreign Policy. The meeting was coordinated by Dominican Ambassador Sonia Guzman and US Representative Adriano Espaillat, a Dominican-American.
Following that meeting, President Abinader met with Inter-American Development Bank president Mauricio Claver-Carone and other officials at the IDB headquarters.
Later, Abinader went to the United States Agency for International Development (USAID) headquarters. As reported, the USAID administrator, Samantha Power, met President Abinader at the entrance of the building, to the surprise even of her staff, and walked with him to her office.
President Abinader's first day in the US capital concluded with another meeting on Capitol Hill, this time with Senator Bob Menendez, head of the US Congressional Foreign Relations Committee.
President Luis Abinader is scheduled to meet with the US Vice President Kamala Harris from 12:10pm to 4pm at the Blair House, the official residence for guests of the President of the United States. The escalating violence in Haiti is tops on the agenda.
Previously, Abinader is scheduled to meet with members of the US Congress at Capitol Hill, an activity that will be again organized by Dominican-American congressman, Adriano Espaillat. The meeting is scheduled for ten o'clock in the morning.
The President will also hold a meeting with the director of the Western Hemisphere of the Security Council, Juan González, and with Philip Gordon, National Security Advisor to the Vice President of the United States.
He will also hold a meeting with the Secretary General of the Organization of American States (OAS), Luis Almagro, and will attend a protocol session at the OAS Permanent Council.
Read more:
Presidency
Espaillat
El Caribe
El Dia
El Dia
15 September 2022