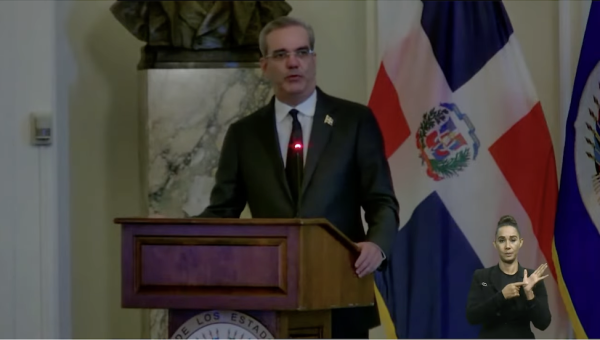 President Luis Abinader has postponed his trip to the UN General Assembly due to the passing of Hurricane Fiona. Last week, he had been in Washington, DC lobbying for help for Haiti with the US Congress and the US Presidency.
During that trip, President Luis Abinader addressed the Permanent Council of the Organization of American States (OAS) on Thursday, 15 September 2022 and called attention to what he described as the unique situation that the multidimensional crisis in Haiti has on the Dominican economy, stability and security and called for regional attention to the matter. He said what is happening in Haiti is more than the Dominican Republic can handle alone. He said the Dominican Republic is doing all it can to ensure the safety of air and sea ports. He called the situation a national security threat due to the criminal gangs that are in control in Haiti.
Abinader mentioned he does not see the people of Haiti taking control of the situation in Haiti. Instead, he noted that Haiti was suffering from what he called "a low intensity civil war."
He urged the regional entity participate in an effort to assist in the creating of mechanisms to control crime in Haiti and impede the gangs continue to have access to new firearms. He called for the Haitian police to be supported with arms, training and technology to control the situation. He stressed the importance of continuing with efforts to provide identity papers to the Haitian population. He said once there are conditions, elections need to be organized with the Haitian leadership.
He called that the next OAS assembly create bases for exchanges between the Haitian government and the international community through the United Nations. He called to act now because thousands of persons are dying in Haiti due to the spreading violence. He said he does not see the people of Haiti finding consensus among themselves to take the needed actions.
Abinader stressed the situation in Haiti is a threat to Dominican national security.
Follow the story:
Speech before OAS Permanent Council
19 September 2022