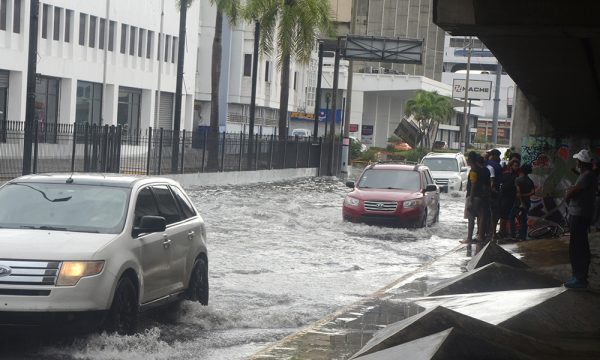 Hurricane Fiona made landfall in the Dominican Republic at Boca de Yuma, in southern Altagracia province and exited Dominican land via Samana as it moved to the west northwest. It is expected to be a category 3 storm and to affect the Turks and Caicos islands on Tuesday, 20 September. The prime minister of Turks & Caicos is attending the funeral of the Queen Elizabeth and had been scheduled to return on this Tuesday.
The Weather Office maintains that everyone in the Dominican Republic should still remain alert to the possibility of floods due to the passing of the outer bands of the storm.
In the update issued on Tuesday, 20 September 2022 at 6am, the Weather Office (Onamet) says that the outer bands will continue to bring heavy rains, and thunderstorms and keeps the warnings in place for possible flooding of rivers, streams and creeks, urban flooding and landslides nationwide.
At 6am, Onamet reported the center of Hurricane Fiona, now a category three storm, is located near latitude 21.5 north and longitude 71.0 west, about 30 km southeast of Grand Turk Island. Maximum winds are 185 kph with higher gusts. Hurricane-force winds extend about 45 km outward from its center and storm force winds extend about 240 km. Fiona is moving toward the north/northwest at about 17 kph as it moves across the Atlantic Ocean away from the Dominican Republic.
Onamet says that the weather nationwide will continue to be dominated by the large and compact cloud field associated with Hurricane Fiona that covers the entire country. It is forecast that for the next 24 to 36 hours, moderate to heavy rains will continue to occur, becoming intense at times, with thunderstorms and occasional wind gusts, especially over Greater Santo Domingo, La Altagracia, El Seibo, La Romana, Hato Mayor, San Pedro de Macorís, Monte Plata, Samaná, Sánchez Ramírez, María Trinidad Sánchez, Duarte, Espaillat, La Vega, Villa Altagracia, Monseñor Nouel, San Cristóbal, Peravia and Santiago.
The ocean swells will continue to be abnormal on the north coast, northeast and points in the southeast. Waves are expected to range between 10 to 14 feet in height with higher breakers, which could reach up to 18 feet.
Onamet says that still on Wednesday, 21 September 2022, the country will be under the indirect effects of Fiona, its outer bands will continue to affect and produce moderate to heavy rains, thunderstorms and wind gusts, especially in the afternoon, over the towns of the eastern, northeastern, southeastern (Greater Santo Domingo), Cibao Valley and the Central Mountain Range.
Read more in Spanish:
Onamet
20 September 2022