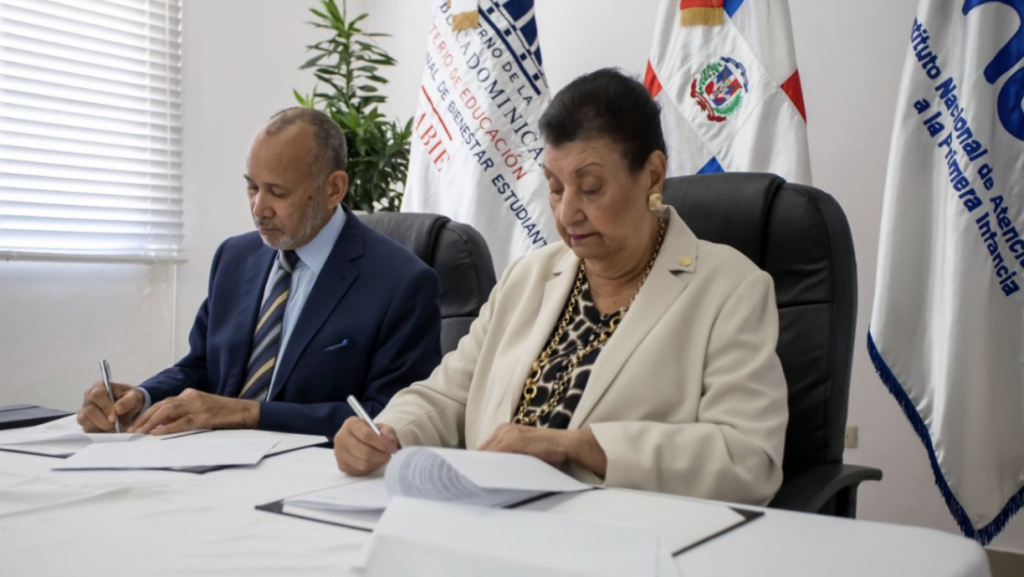 Children 3 to 5 years old attending National Institute of Comprehensive Care for Early Childhood (INAIPI) centers will receive free dental and hearing health services. Previously, INAIPI has offered the services to children from five years of age. INAIPI benefits more than 160,000 families through its Comprehensive Early Childhood Care Centers (CAIPI) and Child and Family Care Centers (CAFI) programs.
Besaida Manola Santana signed for INAIPI and Victor Castro for the National Institute of Student Welfare (INABIE) that will be allocating for resources for the programs at CAIPI and CAFI enters. In a first phase, 74,844 infants will benefit.
"With the formalization of this agreement we continue to increase the scope and impact of the health programs and what better way to reach this population that deserves the best care in the stage they are in," said Victor Castro.
Meanwhile, Santana de Baez said that the agreement will strengthen the component of Attention to Special Educational Needs and Disability Conditions developed by INAIPI.
Among other aspects, the agreement will promote the application of sonometry, hearing deficit screening, audiometric evaluations in audiological booths, and providing hearing devices, otorhinolaryngological consultations and diagnoses.
In addition, the agreement will allow beneficiaries to have daily consultations and treatments in the existing dental modules, to ensure children can eat, speak, gesture and chew their food properly.
Health days are being coordinated when staff of the Department of School Health Management will see the children at the centers and at clinics available at the INABIE headquarters and in fixed and mobile dental modules located nationwide for this purpose.
Read more in Spanish:
Presidency
22 November 2022