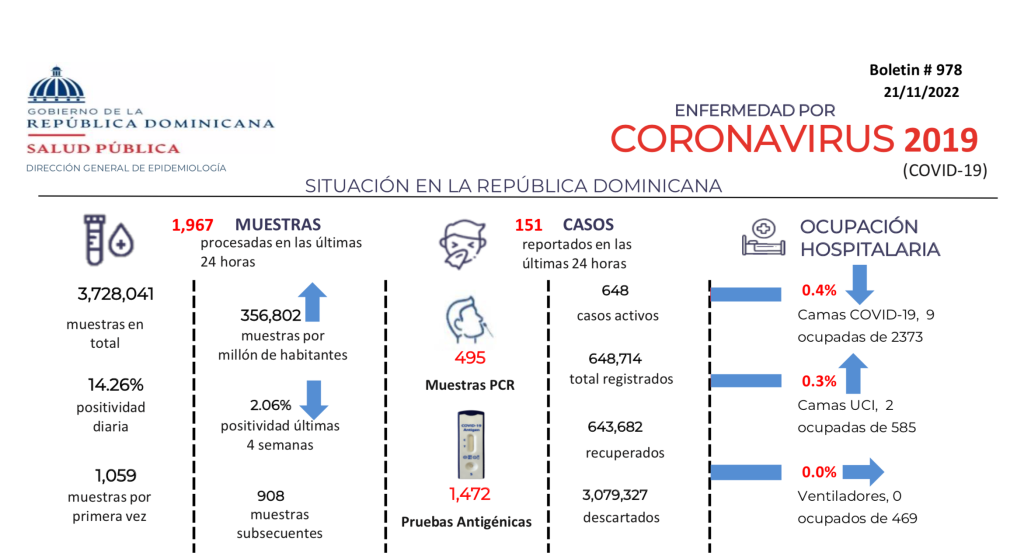 The 4-week Covid-19 positivity rate has risen to 2.06%, with the 24-hour positivity rate at 14.26%, as per Covid-19 Bulletin #978 dated 21 November 2022. The number of lab-reported tests is 1,059.
The number of Covid-19 registered cases in the Dominican Republic for Bulletin #978 was 151, up from 107 on the previous day. The number of Covid-19 cases has been rising. The seven-day average (confirmed lab-reported cases) is up to 95, after the previous week the average being 41. The number of active cases is 648, up from the previous day 591. The seven-day active case average is at 557.
Except in hospitals, every day less people wear facial masks in the Dominican Republic. Nevertheless, in recent days, given the impact of seasonal influenza, more people are again using face masks as a preventive measure.
As per Bulletin #978, with the deadline of 21 November 2022, the Ministry of Public Health has registered 648,714 PCR or antigen-confirmed cases since the first case on 1 March 2020.
As of the 21 November 2022 deadline, 4,384 persons are reported to have died of the disease in the Dominican Republic, a nation of more than 10.8 million adults since March 2020. The 1M/death rate is at 395 compared to the 2,758.66 average for the Americas region. The fatality rate in the DR is at 0.68%. The fatality rate per 1M inhabitants is 419.58.
As per the 21 November 2022 deadline, the cases continue to be concentrated in Greater Santo Domingo. There were 98 registered cases in the National District, 31 in Santo Domingo province, 5 in Monseñor Nouel and Espaillat, 4 in Santiago, 2 in La Altagracia and Peravia. There was one reported case in La Romana, La Vega, San Cristóbal and San Juan de la Maguana.
The Ministry of Public Health says people in the Dominican Republic should continue hygiene measures to avoid falling ill the new Covid-19 variants, but more so with seasonal influenza and dengue, respiratory syncytial virus. The government has made available hundreds of thousands of free flu vaccines at regular vaccination stations nationwide.
22 November 2022