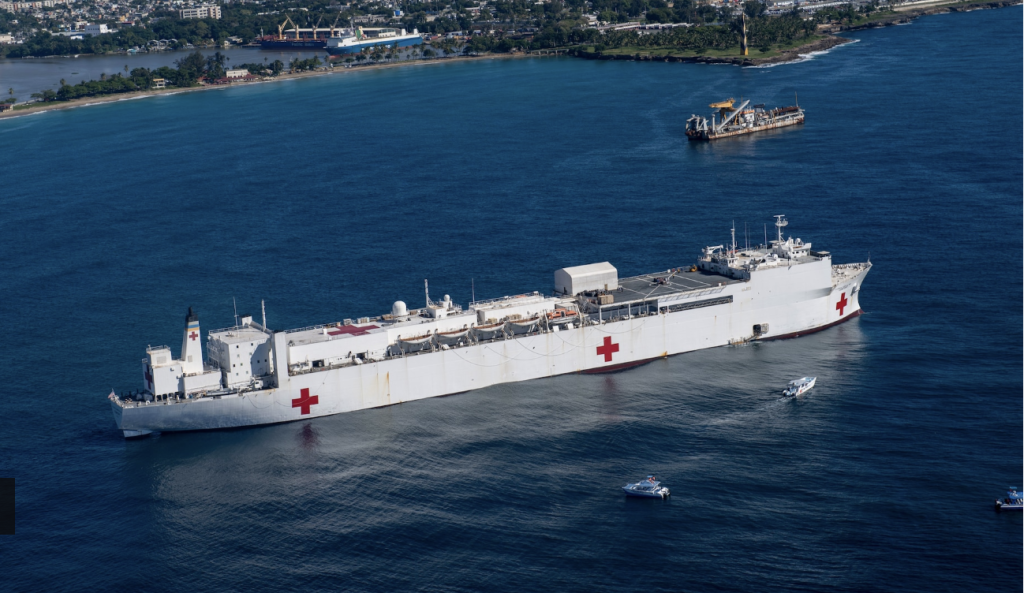 The hospital ship USNS Comfort (T-AH 20) of the United States Navy arrived in Santo Domingo on Sunday, 27 November 2022, in support of US Naval Forces Southern Command/U.S. 4th Fleet's Continuing Promise 2022 (CP22) mission. The ship is commanded by four-star US Army's General Laura Jane Richardson, described as the woman with the highest rank in the military, commander of the US Southern Command.
A press release from the US Southern Command explains that the Comfort will hold subject matter expert exchanges with Dominican partners, women, peace and security seminars, humanitarian assistance and disaster relief trainings and community relations engagements. The ship is docked in Santo Domingo. Medics from the ship will hold consultations at the Volleyball Pavilion of the Juan Pablo Duarte Olympic Center through 5 December and at the Azua sports pavilion through 4 December.
The press release states medical surgeries will be provided aboard the ship and medical services at the Centro Olympico in Santo Domingo and the Polideportivo in Azua. Services at these two sites will include adult care, pediatric care, dental, optometry, women's health, and various auxiliary support services.
This visit marks the fourth of five mission stops as part of CP22 and the sixth visit to Dominican Republic as part of Continuing Promise since 2007.
The next stop of the ship is in Haiti.
Read more:
US Southern Command
US Southern Command
29 November 2022