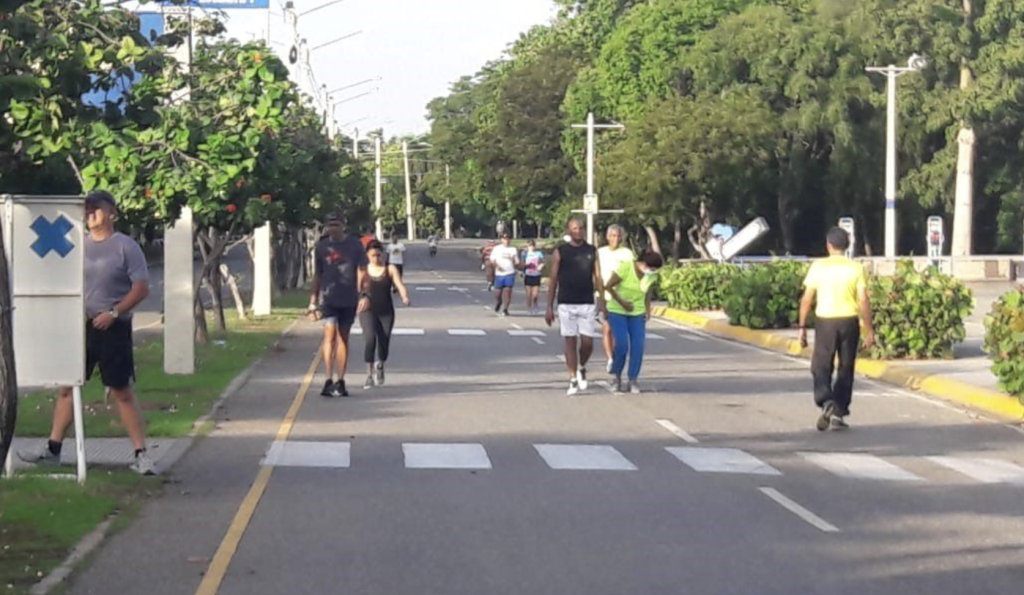 The Ayuntamiento del Distrito Nacional (ADN) announces the new schedule for commuting on the so-called Avenida de la Salud (Paseo Freddy Beras Goico), the tree-studden boulevard that borders the Mirador del Sur Park to the south. The avenue got its name from the thousands that use it for exercising, but was later renamed in honor of TV producer Freddy Beras Goico.
The city government says that the Paseo Freddy Beras Goico is now again open to vehicular traffic
The traffic hours are now: Monday to Friday from 10am to 4pm and Monday to Thursday from 9pm to 4am. On weekends the avenue is completely closed to vehicular traffic.
The reopening happened after El Caribe questioned the complete shutdown of the road. This apparently had happened sometime during the Covid-19 pandemic. Residents in neighboring areas have complained that the complete shutdown generated unnecessary traffic jams.
El Caribe reports that three days after the reopening, residents in the vicinity of Mirador Sur are noticing positive changes in traffic flow, even when most are not aware of the reopening. "We have seen an improvement in traffic. Naturally it has not been able to manifest itself at full capacity because many people still do not know that the Avenida de la Salud is again open to vehicular traffic. There are definitely many people happy with the measure, mainly the sectors that are below the Mirador and we hope that this will put an end to the heavy congestion of Cayetano Germosén, Anacaona and Independencia avenues," the president of the Board of Residents of the Residencial José Contreras, José Ramón Arias told El Caribe.
A resident in nearby Residencial José Contreras points out that despite the fact that the avenue has been reopened to vehicular traffic, the schedule is still detrimental because the avenue remains closed at peak travel times. In the past, the road would be opened at 9am, not 10am.
Several others told the newspaper reporter that people should use the internal walks of the park for recreation and exercising (walking and running) instead of the road, especially during peak traffic hours.
Other citizens, on the contrary, are in favor of the shutdown, expressing the need for spaces for recreation and for the security issue.
Read more in Spanish:
El Caribe
15 March 2023