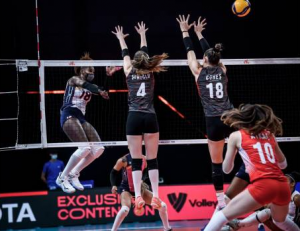 After a slow start in the tournament, the Dominican Republic senior women's volleyball team defeated the team of Turkey in the Nations League Volleyball Championship. Turkey had won all its games until the match against the "Queens of the Caribbean" as the Dominican volleyball team is known. Team DR defeated Turkey with scores of 25-22, 25-21, 23-25 and 25-17 in the tournament that is taking place in Rimini, Italy.
The Dominican Republic women's volleyball team has won four games and lost four in the 16-team Nations League tournament. Team DR is now in 7th place of the tournament. The top six teams are USA, Turkey, Brazil, Netherlands, Japan, and Russia. The tournament is a warm up for the Tokyo Olympics. The Dominican Republic is one of the 12 teams that will be competing in the volleyball tournament of the Tokyo Olympics.
The DR games have been:
Losses:
DR lost to USA on 26 May: 0-3 games
DR lost to Brazil on 0-3 games
DR lost to Belgium 2-3
DR lost to Russia 2-3
Wins:
DR defeated Canada 3-1
DR defeated Korea 3-0
DR defeated Poland 3-1
DR defeated Turkey 3-1
The DR will next play Thailand (8 June), Italy (12 June), China (13 June), Netherlands (14 June), Japan (18 June), Serbia (19 June), Germany (20 June). The semi-finals of the Nations League are on 24 June and the final round on 25 June.
Read more:
Nations League
Nations League standings
8 June 2021