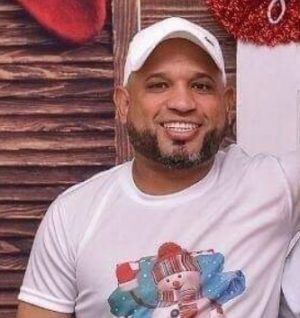 What went off in the brain of a 39-year old Higuey resident Angelo Joel Santana who killed six persons, injured another six and ended up shot down by the Police in Higuey? He was the owner of sports betting shops. His nickname was Angelo Banca.
The Police say the tragedy began in the Barrio 21 de Enero neighborhood in Higuey where Santana lived with his spouse, Angelica Maria Acosta. She survived the shooting on Saturday, 24 July 2021 in the afternoon. Santana was known for his fits of jealousy. The couple had been separated for a month.
After shooting his wife, he killed his neighbor, 69-year old Victoria Villa Santana who looked in after hearing the shots.
Reports are that Santana then left the property in his car, firing random shots. He stopped at a cell phone store, firing at a brother and sister who were shopping for a cell phone for their father. Sunday was Father's Day in the DR.
Santana would kill two innocent bystanders, as he kidnapped their vehicle to continue his run. The Police eventually caught up with him and shot him when he had entered a mechanic shop.
The Police say Santana killed six, and initial reports are that nine persons were injured.
For the killings, Santana used a Browning 9 millimeter caliber pistol that he legally owned. His license to use the gun, nevertheless, had expired in 2019.
The Police said Santana shot and killed Victoriana Villa Santana; brothers Digna and Carlos Jose Cuevas; Ezequiel Perez, Ronny Lizandro Peguero and Miguel Angel Pilier Cedano.
Wounded of gun shots are Angela Maria Acosta (his wife), David Manuel Castro Hernandez, Johnny Ivan Arias, Cecilio Reynoso, Rafael Americo, a 12-year old minor and two other persons who could not be identified, one of whom was a pregnant woman.
The Police report says that Santana wounded his spouse Ángela María with a bullet after an argument, then fled in a pickup truck which he left abandoned. He kidnapped the vehicle of two men, and then abandoned this vehicle, to end up barricaded in a mechanic shop while being pursued by a police patrol.
National Police spokeswoman, Lieutenant Colonel Ana Jimenez Cruceta, explained that the investigators were able to talk to the injured wife who explained that Santana was very jealous of her and she was constantly being physically abused.
Jimenez said the patrol constantly called for Santana Cedano to turn himself in to avoid further bloodshed, which he never did.
Read more in Spanish:
Hoy
Diario Libre
Listin Diario
Noticias SIN
El Caribe
26 July 2021