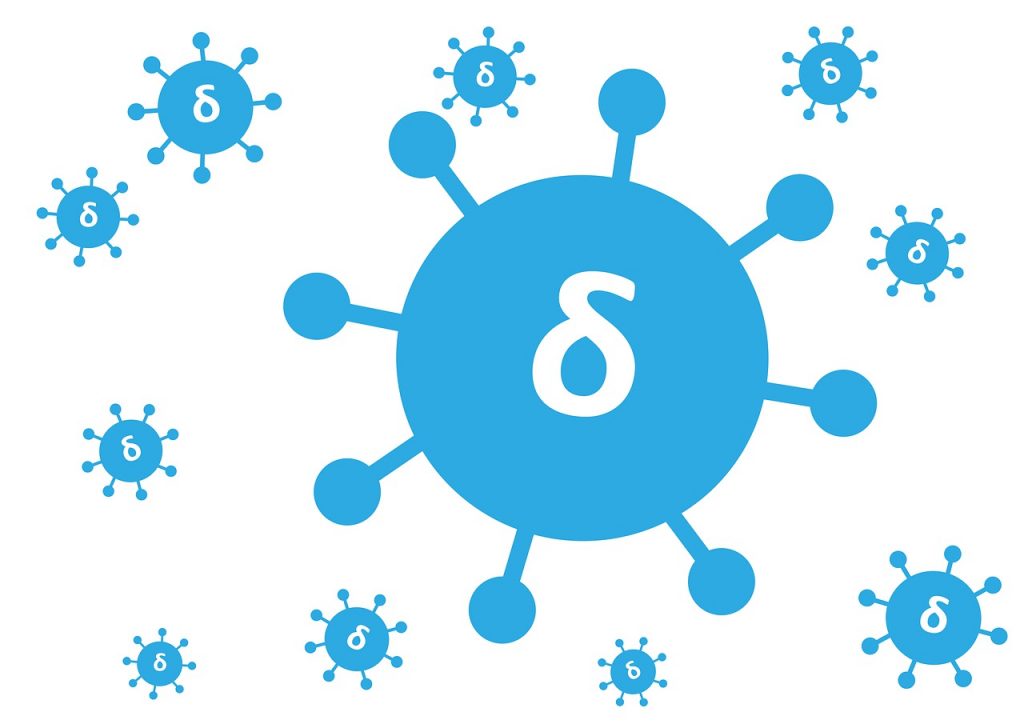 In recent weeks, small outbreaks of Covid-19 have been occurring in provinces where the disease had dropped significantly. Provinces where 1 or 2 cases had been reported per day are now reporting 20 cases. Now the Ministry of Public Health gives the explanation. The Delta variant has been here at least since July 2021.
The Ministry of Public Health confirmed on 16 September 2021 that the Delta variant of Covid-19 is circulating in the Dominican Republic. The government sent samples to Fiocruz laboratory in Brazil that confirmed the variant. The disease is known to have affected five persons and of these four persons had not been vaccinated, Public Health Minister Daniel Rivera said on 16 September 2021. He urged people to complete their vaccinations.
Delta is the most contagious variant, with symptoms often more similar to influenza and more likely to affect young children who are not vaccinated.
The Deputy Minister of Collective Health, Dr. Eladio Pérez said that out of 42 samples (collected 21 July to 14 August 2021) sent for verification to the Fiocruz laboratory in Brazil, seven correspond to variables of concern of which two are Gamma and five are Delta. Others are Iota (1), Lambda (1) and Mu (25).
The distribution of the variants of concern by geographic area is:
Espaillat 1 Gamma,
Duarte 2 Delta,
San Cristóbal 1 Delta,
Santo Domingo 1 Delta,
National District 1 Gamma
La Altagracia 1 Delta
Duarte has 49.5% of its population with two doses of vaccination and San Cristóbal has 47% fully vaccinated.
Notwithstanding, Covid-19 has been under control with active cases and hospitalization at relatively low levels despite the reduced curfew and overall opening of most businesses this summer. Public schools are scheduled to open for in-person learning on 20 September.
Dr. Rivera said that the government will not impose new restrictions because the number of active cases and hospitalizations has kept at a low and is stable, despite the circulation of the Delta variant.
The authorities say the curfew will remain as is and the government is intensifying efforts to reach out to get those who have not been vaccinated to get the jabs or complete their vaccination schemes.
Diario Libre reports that Chilean research shows that a diversity in application of vaccines provides more protection to a population than the use of a single type of vaccine. Mentioned are the cases of Chile, Uruguay, Colombia where, as in the case of the Dominican Republic, several vaccine modalities were applied. In the Dominican Republic, the population has received the AstraZeneca, Sinovac and Pfizer vaccines. This is in contrast with Israel (Pfizer) and United States where RNA type vaccines were applied and where Delta variant cases have spread more rapidly.
Delta and Mu variants have also been detected in Haiti. On the same Thursday, 16 September 2021, Haiti's top health official, Laure Adrien announced that Mu and Delta variants are circulating in Haiti. Adrién said that both variants were found in samples sent to foreign laboratories and in other samples analyzed in Haiti.
The Haitian authorities call for stepping up vaccination efforts in Haiti. As of 9 September 2021 stats, only 14,382 persons had the full two dose vaccination in Haiti. The impact of Covid-19 in Haiti has been relatively low, with only 21,244 cases and 596 deaths reported as of the 14 September reporting deadline. Haiti is vaccinating with Moderna vaccines donated by the United States.
Read more in Spanish:
Diario Libre
Listin Diario
Diario Salud
Hoy
Diario Libre
DR1 News
17 September 2021