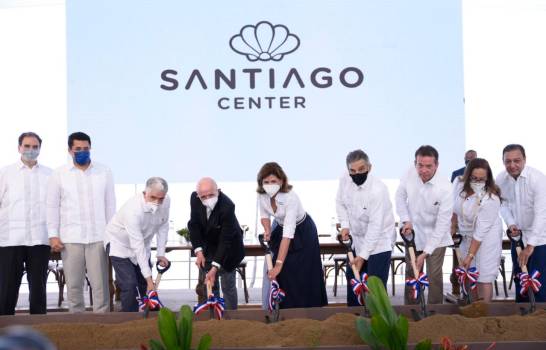 Vice President Raquel Peña, Tourism Minister David Collado, Industry & Commerce Minister Victor Bisonó, Mayor Abel Martínez, Senator Eduardo Estrella, Governor Rosa Santos all gave the groundbreaking shovel for the start of construction of Santiago Center, with a 177-room Hilton hotel, convention center, shopping center and entertainment center.
The Santiago Center will be a 110,000 square meter construction and be located at the intersection of Eduardo Estrella Sadhalá with Juan Pablo Duarte, 20 minutes from the Cibao International Airport and an hour from the Puerto Plata International Airport.
The center is expected to be open by 2024.
The project is developed by Centro Cuesta Nacional (Supermercados Nacional, Centro Cuesta and Jumbo stores) and Grupo Ambar (Agora Mall, Santo Domingo Motors. Jose Miguel Gonzalez Cuadra for CCN and Miguel Barletta for Grupo Ambar spoke at the event.
The new center will be certified by the United Satates Green Builiding Council's Leadership in Energy Environmental Design and will serve as a platform for the promotion of culture and the creative industries in Santiago.
The Hotel Santiago, the first Curio Collection by Hilton to be built in the Caribbean, will be managed by Highgate Hotels.
Speaking at the event, Vice President Raquel Peña highlighted the investments of RD$42 billion in infrastructure underway by the Abinader administration in Santiago. The government has announced it will enhance the city's historic center and expand connecting roads and build a new mass transit system.
Read more in Spanish:
Presidency
Diario Libre
13 October 2021