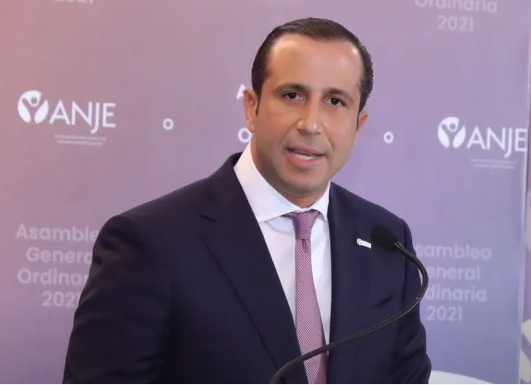 Luis Manuel Pellerano, the new president of the National Association of Young Entrepreneurs (Anje) calls for a comprehensive revision of the Tax Code. The government at present has announced the urgency of passing what is known as the tax reform, which in the past has just meant more taxes.
Pellerano who was just sworn in for the 2021-2022 term at Anje also sees as key issues the government has to tackle are the improvement of the quality of education, electricity system, and government spending.
Pellerano says the governments have been postponing tackling these problems for decades.
"As a country we still have to face the enormous structural and institutional challenges that we already had before the pandemic: the quality of education, public safety, the strengthening of transparency and institutionality, the tax system, the electricity system, the framework of labor relations, and, of course, the administration and management of public funds," he remarked when sworn in as the new Anje board for the period October 2021 to October 2022.
"We must be proactive and flexible to ensure that our young people have the necessary tools to raise our levels of competitiveness," he said.
Pellerano referred to the fact that the country is at an important moment for the construction of a more resilient economy.
Regarding the fiscal pact, he said that a comprehensive review of the Tax Code, a commitment made with the National Development Strategy almost a decade ago, cannot be postponed.
"We cannot continue to resort to isolated tax reforms. We must start with a thorough review of public spending, to achieve levels of efficiency and transparency that are a benchmark for the region; to the review of exemptions and their real contribution to the economic development of our country," he said.
Other members of the Anje board for the 2021-2022 term are:
Cristian Cabral, first Vice President; Jaime Senior, second Vice President; José Nelton González, Treasurer; Leritza Monsanto, Vice-Treasurer; Amalia Vega, Secretary; Yasser Mármol, Vice-Secretary; Gisselle Valera, Member; Karina Mancebo, Member; Francisco Javier García, Member; Susana Martínez Nadal, Past President; and Sol Disla, Executive Director.
The new president of Anje, Luis Manuel Pellerano is the commercial director of Zona Franca Las Américas. He is an industrial engineer from Pontificia Universidad Católica Madre y Maestra (PUCMM) and holds an International MBA from Florida International University (FIU). He is also a member of Beta Gamma Sigma Business Students Honor Society, USA, and is a member of the board of directors of the Dominican Republic chapter of the Entrepreneurs Organization EO.
Read more in Spanish:
N Digital
Super7FM
13 October 2021