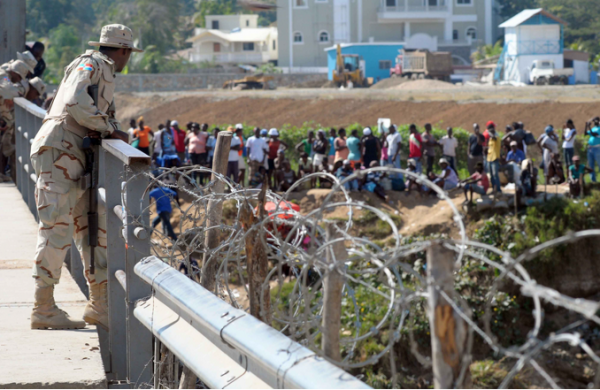 The president of the Chamber of Deputies Alfredo Pacheco (PRM-National District) says that there are several Dominican truckers kidnapped in Haiti and no one does anything. Pacheco said now that Americans were kidnapped, the situation in Haiti has attracted attention.
"But there are a great number of Dominicans, in my constituency there are several, from district 2 of kilometer 13, who are hostages in Haiti and the international community does nothing," said Alfredo Pacheco while speaking to journalists in his office in the Chamber of Deputies.
"The situation in Haiti is causing a crisis, they have just killed a president with his bodyguards, no one from his bodyguard died and no one knows who killed the president, when those who have a minimum of information know who was with the Haitian president," said Pacheco.
Pacheco said he backs the proposal made by President Luis Abinader jointly with the President Laurentino Cortizo of Panama and Carlos Alvarado of Costa Rica that calls for disarmament in Haiti, and presents schemes for creating jobs related to infrastructure works and environmental remediation. He called the presidential proposal "timely and wise."
Pacheco says there is no doubt that the international community has been irresponsible with the Haitian issue, that they have wanted to leave this problem to the Dominican Republic.
Meanwhile, Listin Diario reports that the Army has stepped up actions to patrol the border with Haiti. As reported, the Army increased surveillance in the border area and especially in the Northwest to prevent undocumented Haitians from entering the country. As reported, around 12,000 Haitians have been apprehended and returned to Haiti in the past two months.
The commander of the Fourth Brigade of the Army of the Dominican Republic based in Mao, Colonel German Rosario Perez, said that the border surveillance operations are underway in coordination with Migration inspectors and have been reinforced in strategic border points, roads, mountains, and highways. Rosario Perez declared that they work tirelessly 24 hours a day to enforce the migratory laws.
The military commander indicated that the Haitians who have their documents in order are not bothered and that the soldiers allow their free transit without setbacks.
The high military official recognized that, many times, undocumented Haitians become violent, but that even so, they respect their rights, while at the same time defending the physical integrity of the guards.
Read more:
El Dia

Listin Diario
Listin Diario
Detroit Press
Le Nouvelliste
El Caribe
22 October 2021