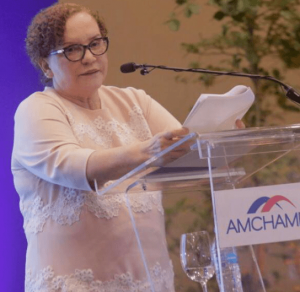 Attorney General Miriam German Brito spoke for the audience of the American Chamber of Commerce and stressed that the Attorney General Office is immersed in institutional transformation to strengthen capacities to prosecute crime but more government funds are needed.
"We are aware of the financial limitations that the country and the world are going through, as a result of the Covid-19 pandemic, but we are confident that the institution will continue to receive the necessary support to promote the institutional transformation required by the administration of justice in accordance with the demands of Dominican society," she said.
The Attorney General Office has been tackling previously ignored corruption cases, including untouchables of military and police, family of a former President, and high ranking current and past government officers.
In her presentation, "Transformation of the Public Ministry in Light of the New Institutional Vision," the Attorney General said she has sought that the Public Prosecutor's Office comply with the social demand to prosecute corruption and organized crime, without neglecting the ordinary cases.
"The Public Prosecutor's Office is an institution exposed to social criticism by the very nature of its functions and, in our country, it carries the stigma of past mistakes. So, the first challenge we have had to face is the restoration of public confidence without allowing ourselves to be dragged down by penal populism," she emphasized. She maintained that the Public Prosecutor's Office must be a zealous guardian of the collective assets.
She stated that there can be no lukewarm treatment or mistreatment, no bitterness or indulgence, but the firm determination to seek within the framework of due process that independent and impartial judges determine the criminal responsibility of those who illicitly appropriate public resources.
She expressed that her greatest aspiration is to ensure that the Public Prosecutor's Office act in accordance with the constitutional and legal principles that govern it, implementing a policy of planned criminal prosecution, so that each of its members confront crime through coherent and objective criteria, with an efficient use of resources, both legal, material and human. The chief prosecutor said she hopes that her team will be able to positively impact the justice system and demand justice for all, from cases affecting ordinary citizens to major corruption and organized crime cases.
"Since we assumed the direction of the Public Ministry in August 2020, a series of initiatives have been undertaken to strengthen the capacities of investigation and criminal prosecution, guaranteeing due process and fundamental rights to efficiently carry out the attributions conferred by Article 169 of the Constitution," Germán Brito explained.
In this sense, the Attorney General mentioned that the agency is implementing budgetary control, has promoted a progressive improvement of career personnel, and has reinforced the internal control mechanisms through the comptroller of the Public Ministry with the use of adequate technological tools to guarantee the success of the prosecution of crime.
Read more in Spanish:
American Chamber of Commerce
PGR
PGR
Listin Diario
El Caribe
El Nacional
Hoy
1 December 2021