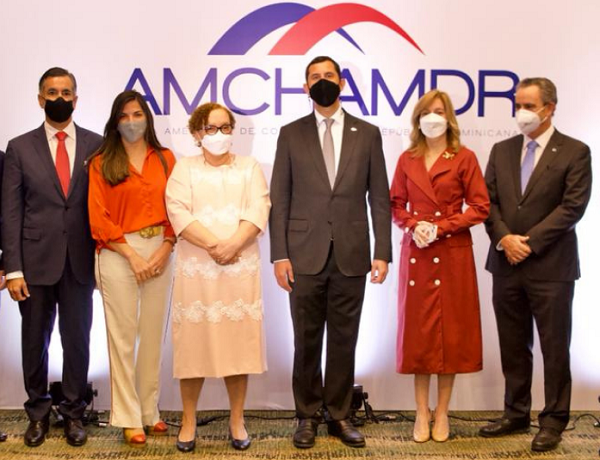 Roberto Herrera, president of the American Chamber of Commerce, introduced Attorney General Miriam German at the presentation at the Opal Room of the Embassy Suites hotel. German Brito gave the speech "Transformation of the Public Ministry in light of the new institutional Vision," explaining the objectives of the new authorities at the Attorney General Office.
In his introduction, Herrera spoke of how the complying with the rule of the law is a fundamental pillar for competitiveness in the country. He said that actions taken to increase transparency in government, efficiency in public administration and institutional strengthening are key to attracting foreign investment.
"Legal certainty is necessary to establish clear rules of the game and avoid that the privileges of one or another sector benefit some productive projects and unfairly marginalize others," said Herrera. He stressed the country must continue to move forward to improve its position in the Global Competitiveness Index. Right now, the Dominican Republic is in a low of 123rd place out of 137 countries in the section of independence of the judiciary.
He acknowledged a step in this direction was taken with the appointment of the former president of the Criminal Chamber of the Supreme Court of Justice Miriam Germán as head of the Public Prosecutor's Office. He said she is a person who throughout her career earned the recognition and respect of the Judicial Branch members, the civil society and business organizations.
"If we want stable investments that grow with the country and create quality employment, there needs to be an environment our partners can trust," he said. He spoke of the importance of trust in terms of legal certainty, transparency, institutionalism, and environmental protection.
Herrera highlighted the land, maritime and air infrastructure that the Dominican Republic has, the macroeconomic stability, as well as the progress that has been made to reduce state bureaucracy.
Herrera said that AmChamDR's priorities have been linked to strengthening the rule of law to increase investor confidence, especially now that the country is deploying a nearshoring strategy and becoming a world-class logistics hub.
The event was held in the Opal Room of the Embassy Suites Hotel with business leaders, prominent jurists and representatives of the media.
Read more in Spanish:
American Chamber of Commerce
1 December 2021