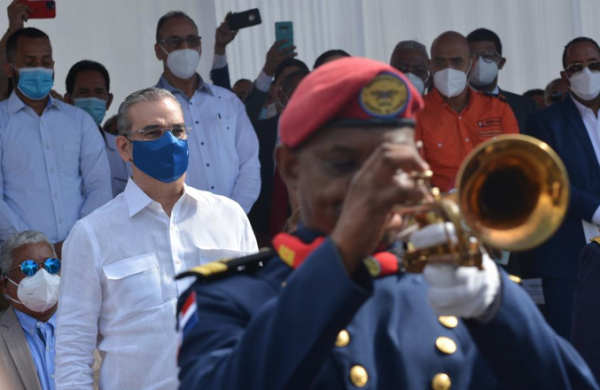 President Abinader was in Duarte province on Wednesday, 26 January 2022, Duarte Day, where he announced that celebrations of the Dominican nationality will continue through 9 March. Duarte Day celebrated the 209th anniversary of Juan Pablo Duarte, founder of the Dominican nationality. Dominican Independence Day is on 27 February.
While in Duarte province, President Abinader inaugurated the completed works of the repaving and improving of the 26 km Presidente Antonio Guzman highway that links Duarte Highway with San Francisco de Macorís, capital of the province. Public Works Minister Deligne Ascención says the improvements cost RD$149 million. The road goes from Cruce de Controba to San Francisco de Macoris.
"This highway will also activate regional commerce, which is extremely diverse in the Duarte province and in all the adjoining provinces. Moreover, I can categorically state that it will relaunch the sales of all regional commerce," said the minister.
He explained that modern agribusinesses are located in the provinces of La Vega and Duarte. He highlighted the road communicates directly to the communities of Cenoví, Ranchito, El Pino, Junumucú, Las Guáranas, all the way to Nagua, on the northern coast, and from there west to the north coast communities and east to Samana.
Ascención stressed that the importance of this road lies in the fact that it is the exit route to the Duarte highway for agricultural and commercial production. It is also the route for commuters from many other communities in nearby provinces, such as Salcedo, La Vega and Sánchez Ramírez.
While in San Francisco de Macorís, President Abinader and Public Works Minister Ascención also attended the inauguration of the regional hospital San Vicente de Paul.
Read more in Spanish:
N Digital
CDN
Listin Diario
El Caribe
27 January 2022