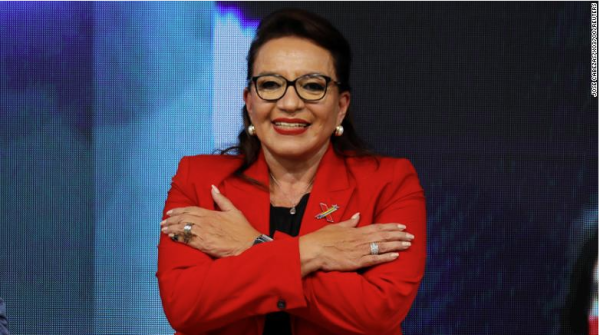 Vice President Raquel Peña is representing President Luis Abinader at the inaugural of Honduras President-elect Xiomara Castro. The inauguration is taking place from 7am on Thursday, 27 January 2022 at the Tegucigalpa National Stadium. Also attending for the Dominican Republic is the president of the Chamber of Deputies, Alfredo Pacheco (PRM-National District).
In Honduras, Vice President Peña will meet US Vice President Kamala Harris, who will be representing the United States.
Honduras media has confirmed the participationof King of Spain Felipe VI and US Vice President Kamala Harris. Also expected to attend are the Presidents of El Salvador, Nayib Bukele and Costa Rica, Carlos Alvarado, Cuban Vice President Salvador Valdes Mesa and Argentinean Vice President Cristina Fernandez.
Other guests who have confirmed their participation are the former presidents Evo Morales of Bolivia, José Luis Rodríguez Zapatero of the Spanish government, Fernando Lugo of Paraguay and Leonel Fernández of the Dominican Republic.
Xiomara Castro and her husband, former President Manuel Zelaya, have a close relationship with former President Leonel Fernández. After spending several months in asylum in the Brazilian Embassy in Tegucigalpa, Zelaya traveled to Santo Domingo on 27 January 2010 on an invitation from then President Fernandez and remained in exile in the Dominican Republic around a year.
Zelaya now represents Honduras as a deputy of the Central American Parliament. He will hold the position of First Gentleman in the Castro administration.
Castro has been Zelaya's wife since 1976.
Fernandez's former wife and first lady, Margarita Cedeño was also invited and is expected to attend the inaugural. Cedeño aspires to be President of the Dominican Republic.
Castro was elected on 28 November 2021 the first woman head of state in Honduras. She won with 1.7 million votes. In 2013 she first attempted to reach the presidency.
Wikipedia explains that Manuel Zelaya prematurely left the presidency in Honduras accused of mismanagement of public funds, excessive spending on publicity and propaganda, personal affairs and foreign travel. He was in office from 27 January 2006 to 28 June 2009, when he was ousted to Costa Rica for changing the Constitution to favor his continuing in government. In a June 2019 interview, Congressman Carlos Zelaya, the former Honduras President's brother, stated that Zelaya had "been overthrown by a U.S.-backed civil-military alliance for joining the "socialism project of the 21st century," that promoted by Venezuelan President Hugo Chávez.
Read more in Spanish:
Noticias SIN
N Digital
N Digital
27 January 2022