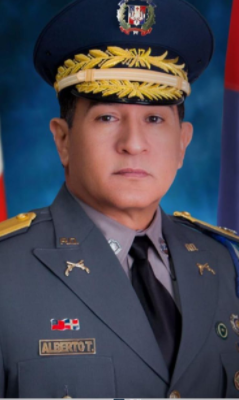 Major General Eduardo Alberto Then has not appeared in public after the uproar regarding recent police brutality cases resulting in three highly publicized deaths by young men in Police custody.
Instead, his superior in the government hierarchy, Interior & Police Minister Jesus
Vasquez and the new Police Commissioner, Spanish security expert Jose Vila del Castillo have been who are speaking whenever the presence of the head of the Police is requested.
These two sat for a press conference in response to the recent killings due to Police brutality where journalists were not allowed to ask questions. Instead, 14 deliverables of the Police Reform were presented.
These two represented the Police director general who had been summoned to the Chamber of Deputies to explain why the recent deaths. The families accuse the Police of murder when these were in Police custody. Opposition deputy Ruben Maldonado for the Fuerza del Pueblo, speculated on why the no-show by Then: "He is unwilling, couldn't or is hiding something," he said Maldonado as reported in N Digital.
Meanwhile, as they go on tour speaking on the Police Reform, Vasquez and Vila highlight the actions to be taken by the government.
Read more in Spanish:
N Digital
Listin Diario
N Digital
Noticias SIN
N Digital
N Digital

10 May 2022