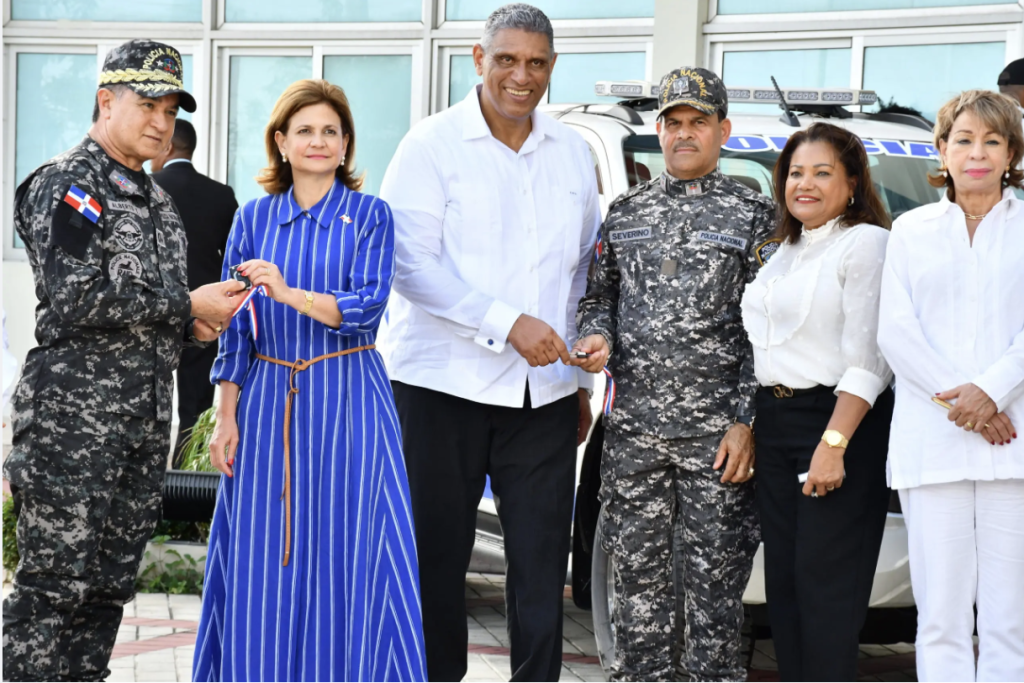 Vice President Raquel Peña and the Minister of Interior & Police Jesus Vasquez attended the start of the My Safe Country security operation (Mi Pais Seguro) in eight sectors in Santo Domingo East in Santo Domingo province on 10 May 2022. The director of the Police, Major General Eduardo Alberto Then was present, while not available to answer press questions.
300 police patrol agents have been assigned to the area. 33 vans and 65 motorcycled units were incorporated to the eastern city service. They will patrol Ensanche Ozama, Los Frailes, Los Mameyes, Los Mina Norte, Los Mina Sur, Los Tres Brazos, Villa Duarte and Villa Faro.
In his keynote words, Minister Vasquez explained Santo Domingo East is the largest and most populated municipality in the country with more than 1.3 million inhabitants and significant economic expansion.
He said My Safe Country has the collaboration of 700 neighborhood councils, 380 non-governmental organizations, 70 boards of trustees, 868 churches of the Federation of Evangelical Pastors and Leaders and 16 of the Dominican Baptist Convention, Regional 10 of Education and its five directors, 39 associations of Christian schools, eight construction unions and the motorcycle cab association.
"We executed concrete measures in prioritized territories to achieve peaceful coexistence and guarantee citizen security, which includes greater police presence and adequate equipment, jointly with the main government agencies to respond to the main demands of the prioritized sectors," he said.
He highlighted the effort and support of Mayor Manuel Jiménez, who has declared citizen security as a priority, and assured that the Local Security, Citizenship and Gender Roundtable is a national reference, with active participation of all sectors involved, and with evident results.
He called on all the sectors of the municipality to make common cause with the program, regardless of their political allegiance, because citizen security is a commitment of all.
He spoke of successes with the initiative that has been implemented in other provinces and the National District. "We have already had positive results with this program in the sectors of Cristo Rey, La Puya de Arroyo Hondo, Ensanche La Fe and La Zurza, San Francisco de Macoris, Santiago, Barahona, Oviedo and La Romana. Recently we also started the one in La Vega, bringing to 11 the number of places intervened," he said.
Meanwhile, Major General Eduardo Alberto Then, director of the National Police, emphasized that the Integral Strategy of Citizen Security "My Safe Country" initiative is going forward. He stressed its implementation is gradual.
Read more in Spanish:
El Dia

11 May 2022