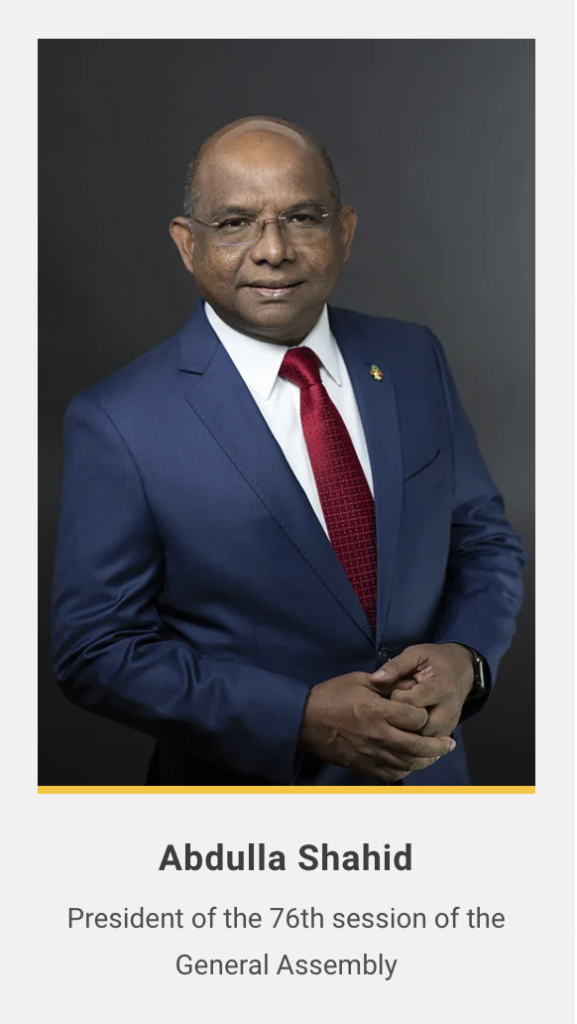 The president of the United Nations General Assembly, Abdullah Shahid, is expected in the Dominican Republic this Thursday, 16 June for an official visit that will last until Sunday, 19 June 2022. Shahid is also Minister of Foreign Relations of the Maldives in north-central Indian Ocean.
The Ministry of Foreign Relations (Mirex) announced that the visit is to complete a work agenda with government officials and civil society organizations. The Ministry says the visit is part of efforts to strengthen the regional and multilateral leadership of the Dominican Republic. Following the most recent participation of President Luis Abinader in the September 2021 General Assembly, the country has fostered the Alliance for Development in Democracy with Panama, Costa Rica, Ecuador and the strategic backing of Canada.
During his visit, Shahid will be received by President Luis Abinader on Friday, 17 June at the Presidential Palace. Mirex says they will discuss the progress of the country in the economic and touristic recovery following Covid-19.
On the same day, Shahid will receive an award from Foreign Relations Minister Roberto Alvarez at the Ministry of Foreign Relations headquarters. He will also participate in a working lunch in which they will address issues of sustainability and environment.
Also on Shahid's agenda is a visit to the facilities of the Supérate government welfare program and talks with civil society representatives, organized by the United Nations country team. He will have dinner with young legislators, offered by the Dominican ambassador to the UN, José Blanco.
On Saturday, 18 June, Shahid will travel to the city of La Romana to visit the Hogar del Niño, and then tour Casa de Campo Resort and Altos de Chavón. His visit concludes with a visit to the Punta Cana Group Foundation, before returning to New York City on Sunday, 19 June via Punta Cana International Airport.
Read more in Spanish:
Ministry of Foreign Relations

14 June 2022