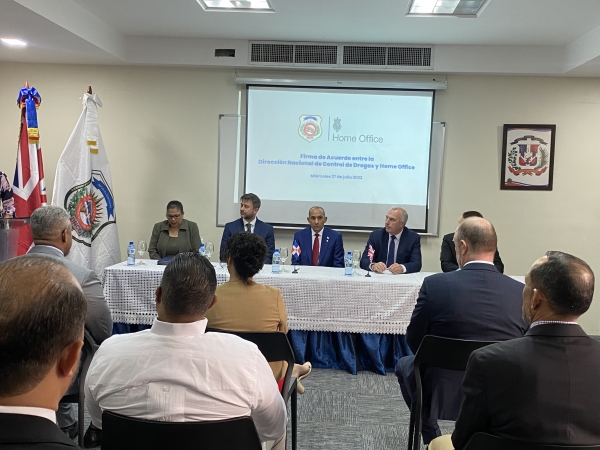 The National Drug Control Agency (DNCD) and the United Kingdom Embassy have agreed to strengthen the joint efforts to combat drug trafficking. The cooperation agreement establishes ways to pursue and combat drug trafficking, money laundering and related crimes. The alliance seeks to expand and implement new strategies and exchange of information to consolidate efforts in the fight against transnational organized crime and international drug trafficking.
Vice Admiral Jose M. Cabrera Ulloa, president of the DNCD signed for the Dominican government agency and David Pennant, director of the UK Home Office, for the UK. Graham Jessup, Deputy Head of Mission and Her Majesty's Consul (representing the British Embassy in the country) Nicholas Fowler, Deputy Director Home Office International, were present for the signing.
Vice Admiral Cabrera Ulloa explained that this joint effort marks a new stage in the bilateral relations between the Dominican Republic and the United Kingdom.
The DNCD continues to strengthen and expand its relations with other countries and counterpart agencies, strengthening the authorities' capacity to act locally and internationally.
The UK Home Office is the lead government department for immigration and passports, drugs policy, crime, fire, counter-terrorism and police for the United Kingdom government. The office is in charge of cutting crime and the harm it causes, including cyber-crime and serious and organized crime.
Read more in Spanish:
DNCD
1 August 2022