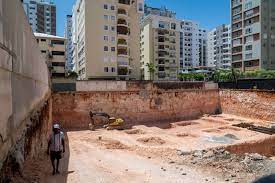 Diario Libre has been covering the plight of residents in the Poligono Central who object to increases in city density with the construction of major high rises in already congested areas. The director of City Planning, Mayobanex Suazo has defended the construction of the Parkside Towers on Federico Geraldino Street near Abraham Lincoln. Suazo says that the project meets the requirements of city planning directives.
But, National District Councilman Mario Sosa says the statements from the Mayor's Office of the National District regarding the Parkside project do not correspond to reality. The mayor's office says that the aforementioned construction is supported by the city's Land Use Plan, which the young alderman denies.
Sosa explained that the Mayor's Office alludes to the Land Management Plan to justify its violation of the resolution in effect for the Polígono Central # 94-98 that establishes a much lower density in the construction of buildings in the area than what the Parkside project will bring. Parkside is a 25-floor tower with 189 apartments. It would be the highest density residential complex ever built in the Polígono Central.
City residents say the regulations limit the number of floors in the area to 14. Lawyer Miriam Paulino is carrying the case. She successfully carried the case against the would have been 40-floor Hard Rock Hotel. The community opposes the building on grounds it is being built in one of the already most congested areas of the city and will only worsen an already bad situation.
The community opposes the "bonus for height," a clause in the Land Use Plan of the City Government approved in 2019 that authorizes developers additional floors if they contribute improvements to the area. The developers say they are donating 915 square meters of park area to the community in exchange for the additional floors. The residents say the clause cannot apply to the Federico Geraldino Street because it is a feeder street, not a main street.
Read more in Spanish:
Diario Libre
Diario Libre
Diario Libre
Instagram
Diario Libre
20 September 2022