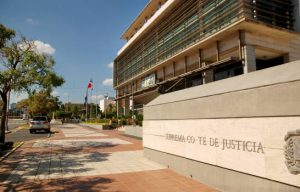 The sentence execution judges, Richard Henry Berras Reyes for the eastern region, and Joselín Medina Pérez for Barahona in the southwest, have not executed two sentences of the Supreme Court of Justice that order the mayors of La Romana and Jaquimeyes to be sent to jail. N Digital looks into why the sentences are not being implemented despite two months since when they were issued.
On 28 December 2022, the Supreme Court of Justice issued final judgment No.001-022-2022-RECA01002, which sentences the mayor of La Romana, Juan Antonio (Tony) Adames, to two years in prison, but Berras Reyes has still not executed the ruling nor has he ordered the arrest of the mayor.
In the session of the Council of Aldermen of La Romana, to justify the non-suspension of Tony Adames, Judge Berras Reyes was blamed for not playing his role and failing in his duty to duly notify the aldermen and therefore, it was not up to the aldermen to remove the mayor, as stated by the councilman of the Partido Revolucionario Moderno, Felipe Hunt Guillen.
The Municipal Council of the City Council of La Romana decided, with nine votes in favor, out of a total of 13, not to suspend Mayor Adames, in frank disregard of the SCJ ruling and Law 176-07, of the National District and Municipalities, as reported in N Digital.
The other mayor is Carlos Valentín Batista Batista (Carlitos Pollo) of Jaquimeyes, Barahona province, to whom the SCJ ratified a sentence of three years in prison for corruption. The judge that needs to implement that sentence, Joselín Medina Pérez, has not yet executed it.
The conviction against Carlitos Pollo dates back to 12 January 2023, two months and several days ago, but Judge Medina Perez has not yet proceeded accordingly. Recently, the president of the Council of Aldermen of the Jaquimeyes City Hall, Luz Nelly Figuereo Matos, told N Digital: "We are waiting for the decisions of the superiors."
Supreme Court of Justice rulings are unappealable and have the character of being irrevocably judged.
16 March 2023