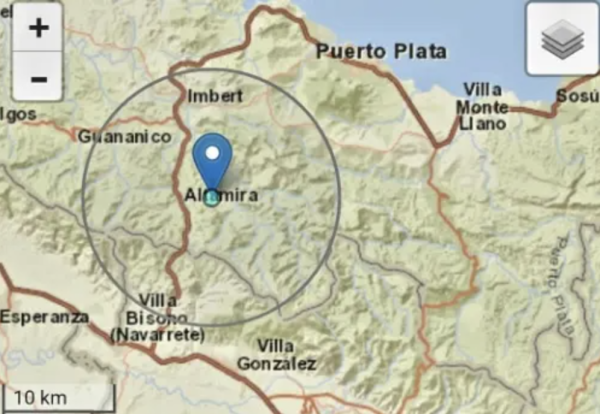 A shake was felt in the north of the country on Thursday, 18 May 2023 in the early morning. Most people did not feel the moderate-to-light shaking because it all happened starting at 4:43am.
It impacted mostly Santiago, Navarrete, Imbert and Puerto Plata.
Some cracks were reported, but nothing major. The government said the earthquake was 4.8 magnitude. Other reports indicate it registered 5.2.
The earthquake hit most of the northern coast and much of the Cibao Valley, especially Santiago. It was entered around 3 km from Altamira, a small town nestled in the Northern Mountains (Septentrional), yet reports that it was felt as far away as the province of Santo Domingo on the southern coast.
This affected area is a known fault zone, responsible for many of the strongest earthquakes in Dominican history. There were no initial reports of injuries, but several schools in the surrounding area would report important cracks, and classes at some were held outdoors until inspections could be scheduled.
Education authorities have said that at least 12 schools will need repairs in the Santiago—Puerto Plata area. One in particular, in the hamlet of Pedro Garcia, which sits almost on top of the fault line, held classes outside, None of the schools in the area presented major damage, and according to local authorities 80% of the schools showed no damage whatsoever.
Read more in Spanish:
Diario Libre
El Caribe
Hoy
Hoy
22 May 2023