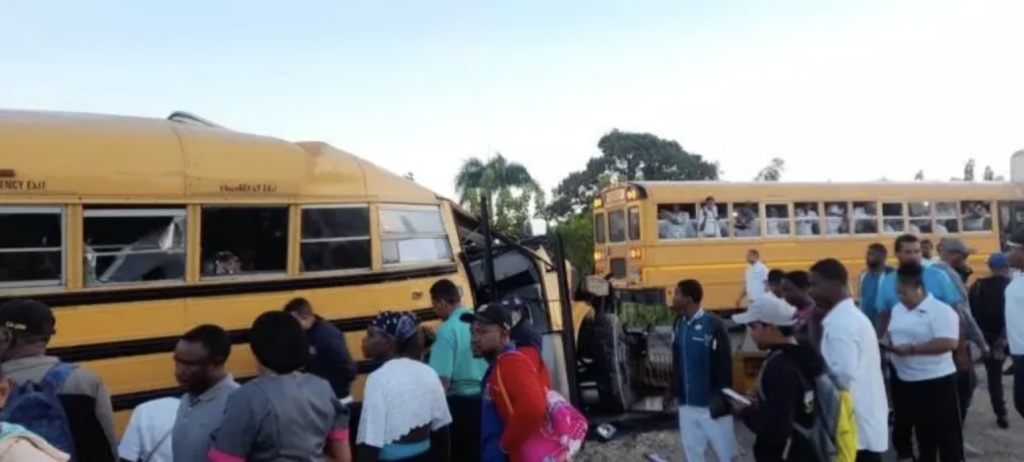 The driver of one of the buses involved in the accident in La Otra Banda, Higüey, is in the custody of the Traffic and Land Transportation Safety (Digesett) until he is medically discharged, El Dia reports.
Gregorio Yan Martínez, driver of the Aviam bus company, suffered injuries in the incident, but is stable at the Antonio Musa hospital in San Pedro de Macorís where family members took him.
The incident occurred between six and seven in the morning on Saturday, 9 September 2023 and resulted in the death of nine Punta Cana area resorts employees.
The names of the deceased are: José Luis Rojas Cruz, 40 years old, who drove one of the buses; 49-year old Yudy Familia Romero; 31-year old Arquímedes Tolentino Guillén; 34-year old Francisca Gil Pérez; 31-year old Zoribel Carpio Cuello; 31-year old Juan Bautista Nuñez, and 47-year old Santa Caraballo and Erickson García Moreta.
Ruth Sonaida Marte, an employee at the Royalton resort, and an injured passenger, told the press that the driver who hit them was driving recklessly. She said the driver was passing when it crashed the bus transporting the workers.
The senator for La Altagracia province, Virgilio Cedano warned that the recklessness of the drivers mixed with pressure to make many trips transporting employees from resorts to and from their home towns in a short time has caused many accidents, of which several have been fatal. The Senator urged severe measures be taken against companies that hire drivers without keeping proper standards, as reported in Hoy.
In a single week, in La Altagracia province alone, three bus accidents occured, all with fatalities and dozens of injured. Cedano believes that these accidents can be avoided. Twelve people died in two of the three accidents affecting hotel staff personnel.
Cedano said the penalizing of the drivers with just 20 public sector minimum wages is too little. He recommends that the licenses be taken away from the drivers for life.
Read more in Spanish:
Noticias SIN
13 September 2023