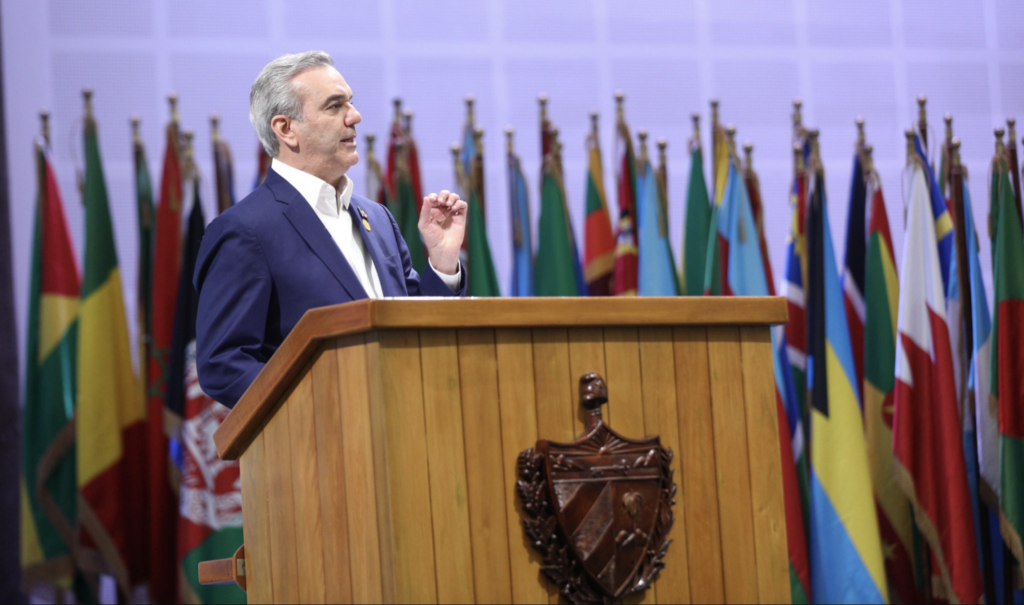 President Luis Abinader was in Cuba to participate in the opening of the Group of 77 developing countries and China (G77+China) Summit in Havana.
The event is taking place 15-18 September 2023 at the invitation of the Cuban government. President Abinader left on a private jet from San Isidro Air Base at 8:45am on Friday, 16 September 2023 and was back by 6pm on the same day. Abinader traveled accompanied by Foreign Minister Roberto Alvarez; Administrative Minister of the Presidency Jose Ignacio Paliza; and Superior Education Minister Franklin García Fermín.
In his turn to speak to the plenary of the conference, President Abinader focused on the need to promote an innovative culture based on education and technology. "We have understood the predominant role of science, technology and innovation as fundamental pillars for the sustainable progress of our nations. Today I want to focus on how the Dominican Republic is addressing these challenges through our National Innovation Policy 2030 and our National Artificial Intelligence Strategy," he expressed.
The Presidency reported that the head of state explained that the Dominican Republic recognizes the importance of technology as an engine of economic growth and social well-being and therefore, the National Innovation Policy 2030 establishes a solid framework to promote research and development, encourage collaboration between public and private sector, in addition to promoting the formation of human capital highly trained in science and technology.
Abinader expressed his conviction that only through investment in knowledge and research can move countries towards a more competitive and diversified economy.
The President shared details of the Dominican Republic's General Digital Innovation and Development Project. "We are aware of the economic and commercial potential that artificial intelligence currently represents, which has led us to develop a National Strategy. With this instrument, we plan to insert ourselves into the global competition of a technology that is estimated to increase the world's Gross Domestic Product by up to 16% by 2030," he told the audience gathered in Havana, Cuba.
Xinhua, the Chinese press service reported that the participants at the G77+China summit will analyse international situations as well as advantages and challenges facing developing countries, while seeking consensus on orientations and measures to improve the voice and role of G77 in the international political and economic life, as well as the process to reform the global governance towards the target of building a stable and equal international order, promoting collaboration among developing and developed countries, enhancing their cooperation efficiency, especially in science, technology, innovation, knowledge and science-technology development and innovation application on responding to development challenges.
Themed "Current Development Challenges: Role of Science, Technology and Innovation", the event is expected to adopt a number of joint statements recognising the significance of the topic in the current world, calling for the narrowing down of the development gap in science and technology among developing and developed countries, and promoting international cooperation in the field, making full use of experience sharing, capacity building and technology transfer in promoting growth of developing countries.
G77 is the largest inter-government alliance of developing countries established in 1984 with 77 founding members, and it aimed to promote South-South cooperation and economic cooperation among members.
Xinhua press service reported that the Summit of the Group of 77 (G77) and China kicked off at the Palace of Conventions in Havana, Cuba, on Friday, 15 September 2023.
The opening ceremony was attended by Cuba's socialist revolution Army General Raul Castro.
During his welcoming speech, Cuban President Miguel Diaz-Canel highlighted China's efforts to promote international cooperation worldwide.
He said that cooperation, solidarity, and human progress without exclusions are vital to helping tackle today's world challenges.
"Thanks for accepting the invitation that unites us today in defense of the future and the large majorities that comprise such a vast concept of humanity," he said.
Read more:
Presidency
El Dia
Xinhua news
France24
Yahoo News
Hoy
18 September 2023