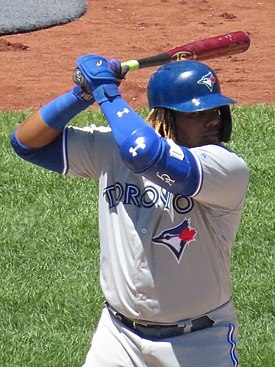 Vladimir Guerrero Jr, son of Cooperstown Hall of Famer Vladimir Guerrero, is a contender for the Most Valuable Player award in the MLB American League. In recent weeks, the Dominican slugger has been building momentum and now has the stats and more to win the award. The award is handed out in both the American and National League at the conclusion of each Major League Baseball season.
As reported, the honor goes to the player generally with the best statistics, which would mean as of 15 September 2021, that the award would go to Toronto Blue Jays first baseman Vladimir Guerrero Jr.
The 22-year-old son of the Angels' Hall of Fame legend, Guerrero even has a shot at winning the triple crown. Nevertheless, for the MVP award, he is competing against the very popular hitter-pitcher 27-year old Shohei Ohtani of the Los Angeles Dodgers.
On the plus side, Guerrero is working hard to help the Toronto Blue Jays make the playoffs. The Los Angeles Dodgers is in fourth place in the American League.
The odds in Vegas betting are, nevertheless, 5 to 1.4 against Vladimir Guerrero Jr.
Fellow Dominican emerging star, Fernando Tatis Jr. had also been a contender earlier in the season.
Nothing is decided.
Read more:
Sports Illustrated
ESPN
CBS Sports
Vegas Insider

16 September 2021