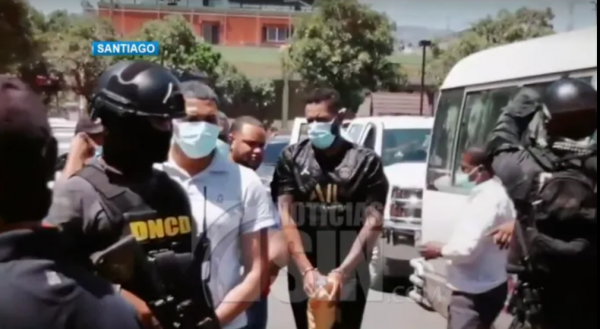 There are now 26 arrested in the Falcon Operation, a major National Drug Control Agency, Public Prosecutor Office and US Drug Enforcement Administration (DEA) offensive against drug trafficking, Noticias SIN reported in its coverage on the drug busts.
Around 80 raids were carried out very early on the morning of Wednesday, 8 September, but more followed on Thursday, 9 September. These were carried out in Santiago, San Francisco de Macorís, Higuey and Miches, among other cities and towns.
On Thursday, 9 September two persons retrieving cash from a bank account in Santiago were arrested.
Among those under arrest is Juan Maldonado Castro, the now suspended director of the government welfare agency, Comunidad Digna. Maldonado Castro is a former four-time deputy for the Dominican Revolutionary Party (PRD). He was arrested in the vehicle of Dominican Revolutionary Party (PRD-Pedernales) deputy Hector Dario Feliz Feliz. The vehicle was seized, but Feliz Feliz, who was in the vehicle at the time of the arrest of Maldonado was not arrested because he has parliamentary immunity.
In the Falcon Operation, a well known model, Dianabel Gomez was arrested. She says she was arrested not for actions she committed, but for who she knows. She said she was not aware of the activities of her spouse.
The persons under arrest are linked to drug hauls of around five tons of cocaine between 2016 and 2019. Most of those arrested are now in preventive custody at the Santiago Justice Palace.
Among those arrested in the crack down on drug trafficking are: Rafael Alberto de Jesús, Marisol López Ceballo (Mary); Elva Teresa Polanco, Víctor Elpidio Paulino Herrera, Francisco Linares Pimentel, Adolfo Torres Sanabia, Julio César Jiménez Talavera, José Alejandro de la Cruz Morales (El Michero), Juan José de la Cruz Morales (El Don); Juan Maldonado Castro (Marcial or El Líder); María Olimpia Tavares Ro­dríguez (Oli, La Princesa); Lenin Bladimir Torres Bueno and Delfina Asunción Polanco.
Muckracking journalist Altagracia Salazar highlighted the new lack of tolerance to the influence of drug trafficking among politicians with a change in the authorities at the Attorney General Office. The media also focuses on how the new independence in the prosecutor's office is affecting politicians that gained these positions thanks to the abundance of resources allegedly gained with their ties to drug traffickers.
Read more in Spanish:
Listin Diario
El Caribe
Noticias SIN
Listin Diario
10 September 2021