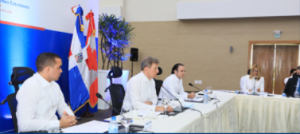 Foreign Minister Roberto Álvarez received a mission of Canadian business and government people interested in participating in trade, development, investment, industry, tourism, and cooperation for environmental sanitation projects, among others.
"We are in a nation with an excellent investment climate, reinforced by the Dominican government's efforts to fight corruption and impunity," Alvarez told the members of the mission in his welcome remarks.
Dominican Ambassador in Canada, Michelle Cohen; Sylvia Cesaratto, Canada's director general for Central America and the Caribbean for Global Affairs Canada; and Christine Laberge, Canadian ambassador to the Dominican Republic, coordinated the meetings from 19 to 22 October 2021.
Dominican ambassador Cohen said the multisectoral business mission aims to reactivate bilateral relations between Canada and the Dominican Republic. She said the mission's visit creates an ideal space for the discussion of new joint strategies between Dominican and Canadian entities for the reactivation and revitalization of tourism, the increase of trade and to attract more investment.
The Canadian delegates had a schedule that included a meeting at the Presidency, meetings with the Senate, ministries of Defense, Industry and Commerce, Tourism, Environment, Energy and Mines, Interior & Police and the Banco de Reservas.
There were also meetings at the Dominican Republic Export and Investment Center (Pro Dominicana). Pro Dominicana director Biviana Riveiro Disla met with the 25 mission members including companies and representatives of Canadian government entities and presented investment and business opportunities. She pointed out that there are some 30 Canadian companies already doing business here and employing 9,000.
The mission members also met with authorities at the Public-Private Alliances Agency, the National Institute of Drinking Water and Sewage (INAPA) and the Santo Domingo Aqueduct and Sewerage Corporation (CAASD).
Mission members had on their agenda a visit to the pluvial and sanitary works being done in the Cañada Guajimía, a major river stream in western Santo Domingo. The project is expected to be finished this year. The Canadian government's Canadian Commercial Corporation is backing the Canadian company Magil Construction Corporation in the implementation of the second phase of the Guajimia Water Sanitation Project in Santo Domingo under the Santo Domingo Water Corporation (CAASD). The Guajimia project includes a wastewater treatment plant, storm sewers, sanitary sewers, potable water, construction of roads and green areas and apartment units. It was begun in 2005 with initial work carried out by the Canadian construction firm of Dessau Soprin Can-American Inc.
The Canadian mission also scheduled meetings with members of the Dominican-Canadian Chamber of Commerce, the National Business Council (Conep), the National Council of Free Zones and visiting the Las Americas Industrial Park.
The mission agenda closes on Friday, 22 October with the virtual workshop "How to Export to Canada: Business Opportunities in the Canadian market, a market full of opportunities."
Read more in Spanish:
Ministry of Foreign Relations
Pro Dominicana
22 October 2021