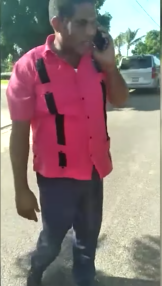 The National Institute of Land Transport and Transit (Intrant) continues to back traditional taxis as they attempt to impede Uber taxis from serving tourists in the Punta Cana area. Uber taxis operate fluently in Santo Domingo.
Rafael Arias, director of Intrant, has said: ""There is no conflict between Uber and the taxi drivers. What we have are heads of family defending their interests."
A Uber taxi service costs at most 20% of what a regular taxi charges. Thus, Uber is the preferred taxi in the area. But the traditional taxi drivers want to keep their high fares and dispute any competition by the platform taxis.
The director of Intrant, Rafael Arias is a former high-ranking executive of Fenatrado, the trucking association. Fenatrado is known for using violent measures to impose their control of cargo in the country.
Journalist Huchi Lora tweets that what is happening now is the result of naming an interested party as director of Intrant.
Read more in Spanish:
Diario Libre
Diario Libre
El Caribe
19 November 2021