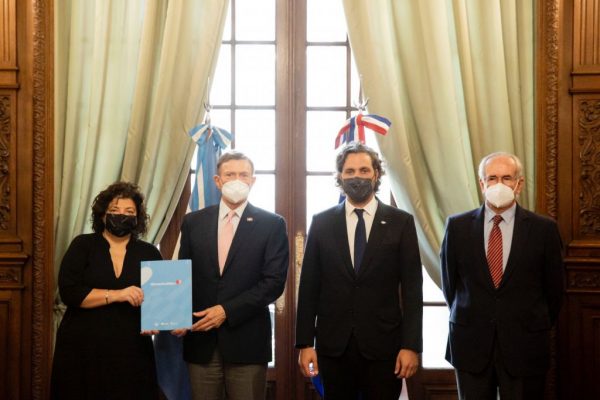 First Lady Raquel Arbaje, the Ministry of Foreign Relations (Mirex), the Ministry of Public Health (MSP) and the National Health Service (SNS) announced on Thursday, 6 January 2022 the signing of two health agreements between the Dominican Republic and Argentina to benefit children who require transplants.
Dominican Foreign Minister Roberto Álvarez Gil and Argentine Foreign Minister Santiago Cafiero were present for the signing during the XXII Meeting of Ministers of Foreign Affairs of the Community of Latin American and Caribbean States (CELAC) held in Argentina.
The Framework Agreement on Cooperation and Technical Assistance, signed by the Ministry of Health and the National Central Institute for the Coordination of Ablation and Implants (Incucai) of Argentina, together with MSP and the National Institute for the Coordination of Transplants (INCORT) of the Dominican Republic, represented by Foreign Minister Álvarez, is the result of the efforts made by the First Lady Raquel Arbaje addressing requests for help received for cases of biliary atresia in infants, a Ministry of Foreign Relations press release reports. The Dominican Embassy in Argentina, under Ambassador Gustavo Hernando Castillo, contributed to the reaching of the agreements.
Also signed was an agreement for the developing of a pediatric liver transplant program in the Dominican Republic.
The signing is part of the efforts of the First Lady who presides the Cabinet for Children and Adolescents.
Nora Capello, Argentina's ambassador in the country, expressed her satisfaction for the signing of these two agreements, in which Argentine science contributes to strengthen the relationship between both countries; in this opportunity, to take care of children's health.
The bilateral agreement calls for the training of Dominican doctors by Argentine doctors, and the transfer of infants requiring urgent transplants to medical centers in Argentina.
Read more in Spanish:
Ministry of Foreign Relations

11 January 2022