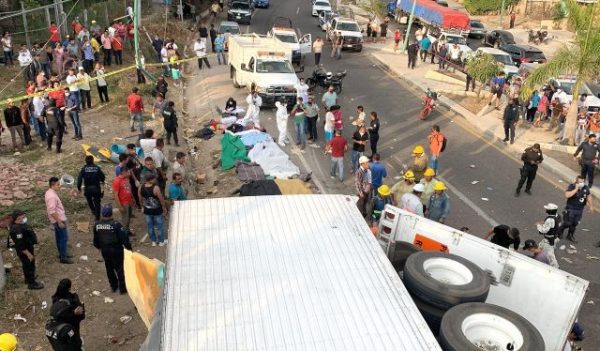 On 6 January, five corpses of Dominicans who died in the Chiapas, Mexico smuggling trailer crash returned to the country on board a Mexican Air Force plane that landed at San Isidro Air Base. The men died in the crash on 9 December 2021. Their names: Raymin Brito Figuero, Wascar Pérez Vargas, Luis Alfredo Brito Báez, Ramón Benito Almonte Espinal and Luis Emilia Roa Chala.
The remains of the Dominicans were transferred by the Mexican authorities with the coordination of the Ministry of Foreign Relations and the Institute of Migration of Mexico. The Ministry of Foreign Relations of the Dominican Republic has arranged for the sending of the corpses for burial in their home towns.
Of the 16 Dominicans said to be involved in the tragedy, 11 died, three who were hospitalized have been released and two others are still missing. All the men were from small communities in the southwestern Peravia province.
The Dominicans who were hospitalized will be brought back to the country in the next few days, said deputy minister for consular and migratory affairs of the Ministry of Foreign Relations, Jatzel Roman González.
The other Dominicans who have already been transferred and buried are Frantony Matos González: Rafelín Martínez Castillo; Reyni Guerrero Soto; Juan Alberto Soto Castillo, Juniel Mordán and Ángel Lisandro Lugo García.
The Ministry of Foreign Relations said the government is covering the cost of the repatriation of the corpses and those who survived the tragedy.
The freight trailer where 156 undocumented migrants were traveling collided with the wall of a pedestrian bridge. After the impact, the container was left without the roof and then overturned to the side. In the collision, 56 of the migrants died instantly, according to the report of the Chiapas Prosecutor's Office.
Read more in Spanish:
Ministry of Foreign Relations
Listin Diario
N Digital
Ministry of Foreign Relations
El Dia
El Dia
11 January 2022