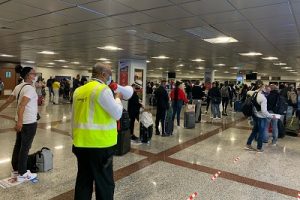 The open doors in the Dominican Republic to tourists from all over the world is paying off. The Ministry of Tourism statistics indicate a record number of arrivals for December. The 728,335 non-resident arrivals is a record number, 8% more than in March 2019 and 17% more than December 2019, and 11% more than December 2018, pre-pandemic months.
Non-resident arrivals in 2021 were 74% foreigners (536,001 non-residents who were not born in the Dominican Republic) and the remaining 26% Dominicans (192,334 non-residents who were born in the Dominican Republic).
The number of December 2021 non-resident arrivals brings the total air arrivals for 2021 to 4,991,594 tourists, the Ministry of Tourism announced in a press conference with the presence of President Luis Abinader.
"This is how we closed 2021. When other destinations have ended with negative figures, we worked and surpassed ourselves in a historic way and managed to close with the best month of December in the history of tourism in the Dominican Republic," said Tourism Minister David Collado.
Collado called the tourism industry the country's main industry and driver of the economy with its ripple effects on manufacturing, farming, transportation, entertainment, and the health sector.
Some 165,609 tourists of 115 nationalities arrived by cruise ship this year.
Collado stressed that more than 93% of the tourists who visited the country in 2021 are vaccinated, according to the survey on satisfaction and safety results, carried out on a sample of 16,133 visitors.
The survey showed that 91% of the visitors showed interest in returning to the country and rated their experience with 4.4 out of 5 stars. The beaches are one of the main attractions of Dominican tourism, reaching a popularity of 84%.
Collado said the tourism sector has generated 174,600 jobs, 5% more than in 2019.
Punta Cana international airport leads in tourist arrivals, receiving 50% of the arrivals of non-residents visiting the country in the month of December. Las Americas received 26% of air travelers and Cibao 12%. The La Romana airport received 6% of the tourists, the Puerto Plata airport 5% and the Samana airport 0.2%.
North America and the Caribbean were the main tourist originators, 61%. From Europe came 25%, from South America 10% and from Africa, Asia and Oceania 4%.
Read more in Spanish:
El Dia
El Dinero
Diario Libre
11 January 2022