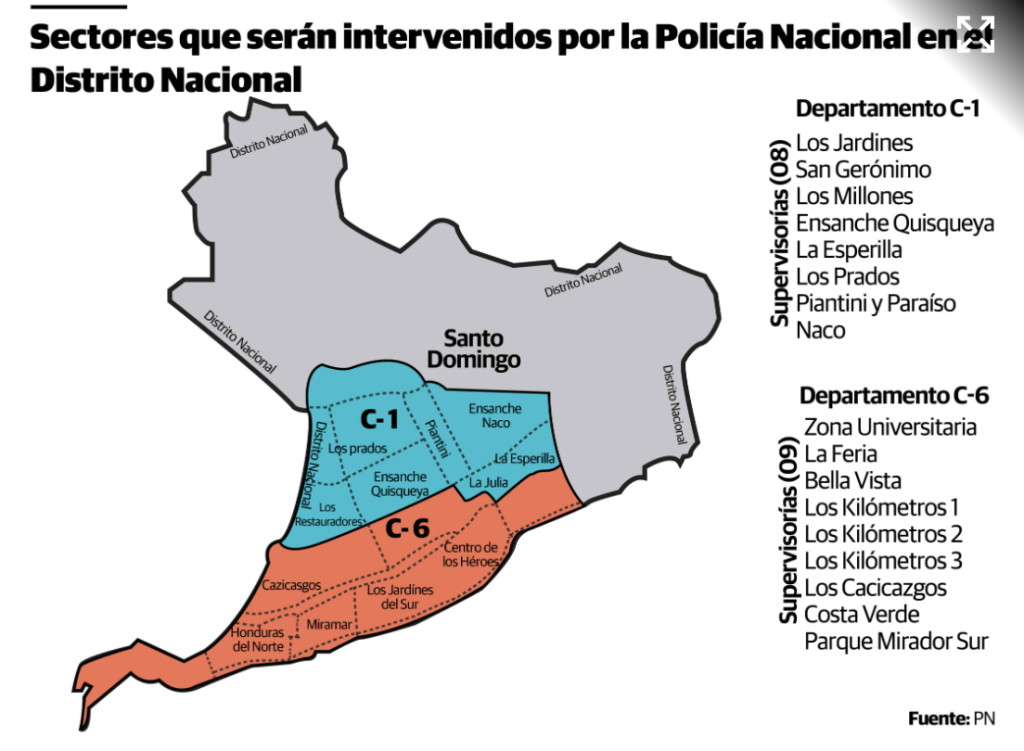 The Ministry of Interior & Police and the National Police will be focusing on combatting crime in the National District with the implementation of the quadrant patrolling starting Friday, 2 December 2022. The program start coincides with the Christmas holidays, a time of the year when the most cash circulates.
The announcement of the start of the quadrant patrolling program follows the revoking by the Ministry of Interior & Police of the ban on sale of alcoholic beverages in the province of Santo Domingo. The ban on drinking after midnight had been imposed on the grounds crime was greatest in the north, east and south municipalities of Santo Domingo province. Santo Domingo province and the National District make up Greater Santo Domingo, the country's most densely populated area.
The quadrant patrolling had been announced in October 2021, but it is now when it will be implemented. The first areas will be the capital city's departments C-1 and C-6, primarily made up by middle and upperclass neighborhoods. Department C-1 encompasses Los Jardines, San Gerónimo, Los Millones, Quisqueya, La Esperilla, Los Prados, Piantini, Paraiso and Naco. C-6 neighborhoods are Zona Universitaria, La Feria, Bella Vista, Los Kilometetros 1-2-3, Los Cacicazgos, Costa Verde and Parque Mirador Sur.
The patrols will be changed every eight hours, with 168 agents assigned to each shift. Another 801 supervisors will monitor the situations. The patrols will use 33 pick-up trucks and 84 motorcycles. The patrols will not use firearms.
The National Police says it needs to recruit and train another 9,000 agents to extend the plan to other Greater Santo Domingo areas. The quadrant patrolling seeks to encourage police agents to establish a close relationship with the communities they patrol for enhanced security.
Read more in Spanish:
Diario Libre
Diario Libre
30 November 2022