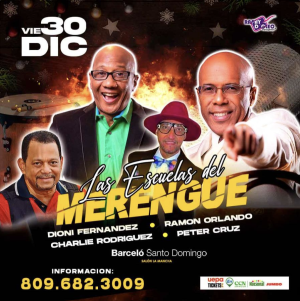 It seems that everyone who could has already head for beach, inner city and mountain vacation homes and hotels leaving empty the normally traffic-jammed streets of Santo Domingo. Shopping centers and stores are open as usual, but the crowds are missing.
Expect to find these people at the resort destinations in Samana, Punta Cana, La Romana, San Pedro de Macoris, Puerto Plata, La Vega (Jarabacoa and Constanza), and Barahona and Pedernales, as people seek to take a respite from city life.
For those staying in Santo Domingo, there is merengue concerts with dancing.
Pochy Familia is celebrating his 35 years as a leading merengue band with a concert at the Jaragua Renaissance. Tickets start at RD$3,700.
Another merengue dancing event is the Escuelas del Merengue show with maestros Dioni Fernandez, Ramon Orlando, Charlie Rodriguez and Peter Cruz performing at the Barcelo Santo Domingo. Tickets start at RD$2,165.
Conjunto Quisqueya and Jossie Esteban are delighting its fans with merengue at Hard Rock Café at the Blue Mall Santo Domingo on 31 December 2022. The Conjunto Quisqueya is joined by the Estrellas de los 80s – including Carlos David, Aramis Camilo, Monchy Capricho and Fenix Ortiz. 10pm. Tickets start at RD$2,165. Showtime is 10pm.
Hector Acosta (El Torito) and the Hermanos Rosario are performing together at the Hotel Embajador on 31 December 2022. Music by DJ Diony & DJ Prince. The Garden Tent from 11:30pm. Tickets are RD$7,500 per person and includes open bar.
Tickets for all the above events are available at CCN store ticket sale points, Supermercado Nacional and Jumbo stores.
They are also available online at Uepa Tickets.
Read more in Spanish:
Uepa Tickets
27 December 2022