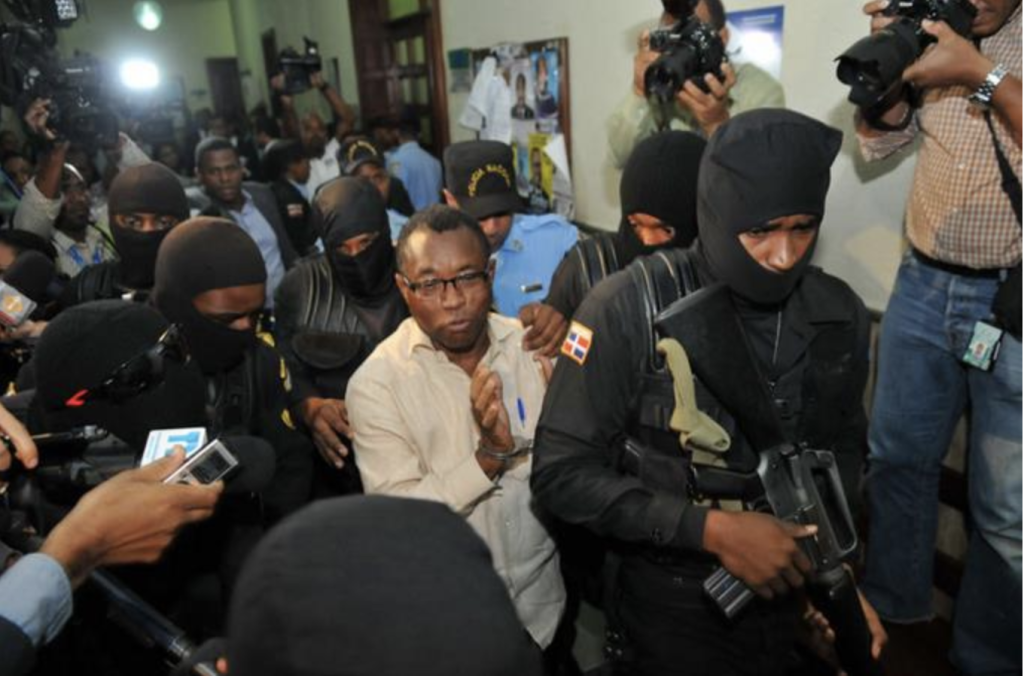 The widow of former state university rector Mateo Aquino Febrillet complained bitterly recently that her husband's murderer, the former president of the Fenatrado trucking union, Blas Peralta was relocated from the Cucama Correction and Rehabilitation Center (CCR) in La Romana to the flexible facilities at the Haras Nacionales detention center in the Santo Domingo province. The judge in charge of the case allowed the change after defense lawyers argued their client suffered of a hernia and other health problems.
In 2017, Blas Peralta was sentenced to 30 years in prison.
Febrillet's widow, Rita Solis says she fears any day now the judges may again change the sentence to further benefit the sentenced murderer.
It is now known that during the Medina administration, then Attorney General Jean Alain Rodriguez granted permission to transfer Blas Peralta from the Correction and Rehabilitation Center (CCR) Cucama in La Romana to the CCR of Haras Nacionales for medical evaluations.
This action is questioned by Rita Solis, widow of the university rector, who says she was not previously notified of the change of jail. She said that she consulted and Peralta does not qualify to be an inmate at the Haras Nacionales center in Santo Domingo North municipality.
"It is difficult when you expect justice to be done and you see helplessly how they reward a murderer by granting him privileges since the change of penitentiary was never notified neither to me nor to members of the family by the Attorney General's Office of the Republic (PGR)," she complained.
She made the remarks when the authorities of the Autonomous University of Santo Domingo (UASD), in the company of family members, students and friends held an event to remember the late rector Mateo Aquino Febrillet, on occasion of the seventh anniversary of his death. Febrillet was rector of the UASD from 2011 to 2014.
At the time of the murder, Peralta was the president of the Federación Nacional de Transporte Dominicano (Fenatrado) truckers' association, known for imposing its cargo transport market share with vandalism.
In the trial where Peralta was sentenced to 30 years in jail, Peralta was also found guilty of attempted murder against Omar Enriquillo Sosa, Rosa Elaine Mañaná, Joel Antonio Soriano and Edward Montás.
Peralta was ordered to pay compensation of RD$10 million to the Aquino's widow, Rita Yomaris Solís; and RD$7 million to each of the three children and RD$1 million to Omar Enriquillo Sosa Méndez. The Aquino Febrillet family lawyers had requested RD$100 million in compensation for each of the children and RD$200 million for the widow.
Read more in Spanish:
Hoy
Listin Diario
23 March 2023