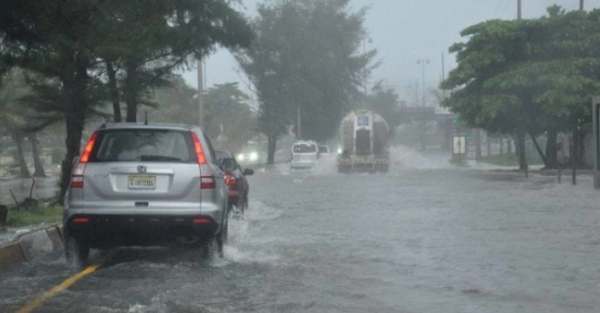 The National Weather Office (Onamet) and the Center for Emergency Operations (COE) announce rains through the end of this week. A trough and humidity brought by southeastern winds is bringing the rains after months of severe drought nationwide.
The Center for Emergency Operations says 21 provinces continue on rainfall alerts for possible flooding and landslides.
The provinces under red alert are Santiago Rodríguez and Montecristi in the northwest.
Provinces under yellow alert are: Elías Piña, Santiago, La Vega, Valverde, Sánchez Ramírez, Monseñor Nouel, El Seibo, Puerto Plata and Espaillat.
Green weather alerts were issued for Monte Plata, Duarte, María Trinidad Sánchez, Hermanas Mirabal, the National District, San José de Ocoa, Santo Domingo, La Altagracia, La Romana and Dajabón.
Onamet reports that moderate to heavy downpours with thunderstorms and wind gusts will continue on Wednesday, 24 May 2023 in Dajabón, Valverde, Santiago Rodríguez, Santiago, La Vega, Puerto Plata, Espaillat, Hermanas Mirabal, María Trinidad Sánchez, Duarte, Monseñor Nouel and San José de Ocoa, extending towards Greater Santo Domingo, San Cristóbal, Peravia and San Pedro de Macorís.
Weather forecasts say that on Wednesday, 24 May 2023 the weather conditions will remain dominated by the passing trough with weak to moderate rains with isolated thunderstorms in Barahona, Azua, Peravia, San Cristobal, Greater Santo Domingo and San Pedro de Macoris, especially in locations near the coasts.
The forecast is for heavy rainfall in Santiago, Santiago Rodríguez, La Vega, Monseñor Nouel, San José de Ocoa, and others located to the northwest and north.
Read more in Spanish:
El Dia
Onamet
24 May 2023